Packing machines for sugar: from small formats to big bags. Everything you should consider before buying a sugar bagging machine.
If you are in the market for a bagging machine for sugar, you are probably wondering what type of packaging machinery suits you the best.
There are many factors to consider:
the packaging materials
the size of the bag
how many bags per hour you are producing
Packaging machines for pre-formed bags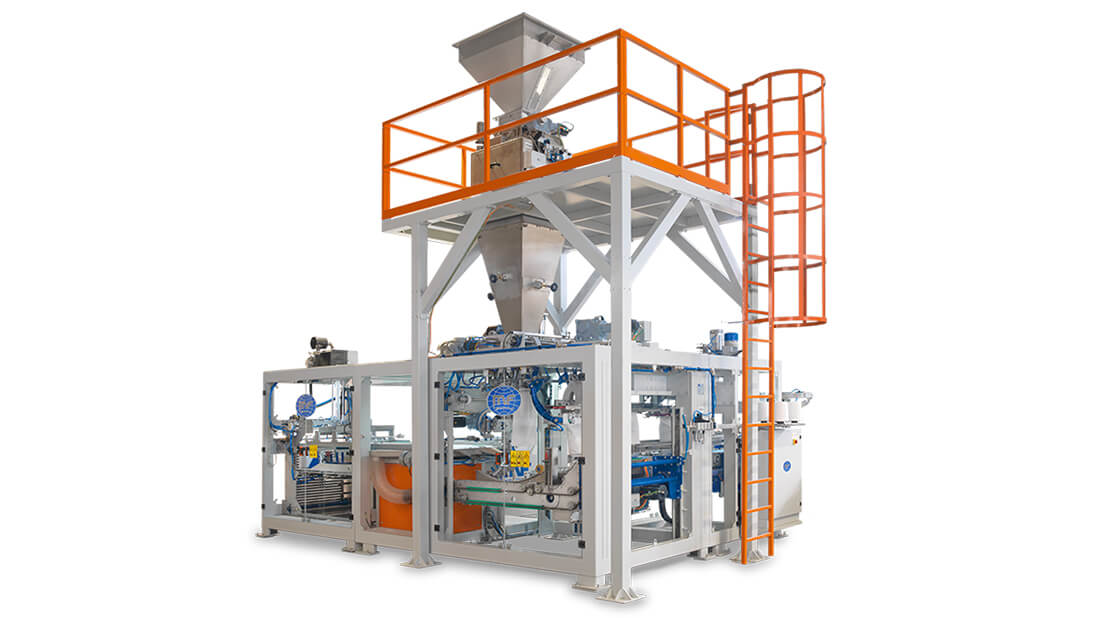 If you are going to pack sugar in preformed bags you will need an open-mouth bagging machine.
There are two kinds of open mouth bag fillers: automatic and manual.
The manual or semi-automatic packing machines can be designed in the net weight or gross weight version.
In some cases, the semi-automatic bagging machine is enough for the production volumes.
The gross weight manual vagging machine reaches 150 bags per hour, while the net weight version bag up to 400 bags per hour.
The bag's size may vary from 5 up to 50 Kg.
You should consider that in this type of bagging machine you will always need a dedicated worker. The difference in price that you will save in the beginning should also consider the worker retribution.
On the other hand, if you need to automatize your sugar packaging process an automatic bagging machine is the right solution.
In this scenario, there are different available machinery.
If you value the aesthetics of the bag and you are packing small formats (from 300 gr up to 5 Kg) you might choose the stand-up pouch packaging. The MF POUCH 3000 is the perfect machine for such packaging sugar needs. Another feature is its remarkable speed, making it able to bag up to 3000 stand-up bags per hour.
For gusseted bags from 5 up to 50 Kg instead, we recommend the IABA series. This series is very flexible, starting from the 600 bags per hour of the IABA 600S up to 1200 bags per hour of the Universal 1200.
For production volumes of 800 bags per hour, we designed the IABA 800 S.
Last year for a special project where we handled the packaging of maltodextrin, we created the IABA 600 D. A double spout automatic bagging machine that can pack up to 1800 bags per hour.
For large quantities, the bagging machines for Big Bags can manage up to 1500 Kg.
For double block bottom bags of 1 Kg, it's usually used STS step by step packaging machine.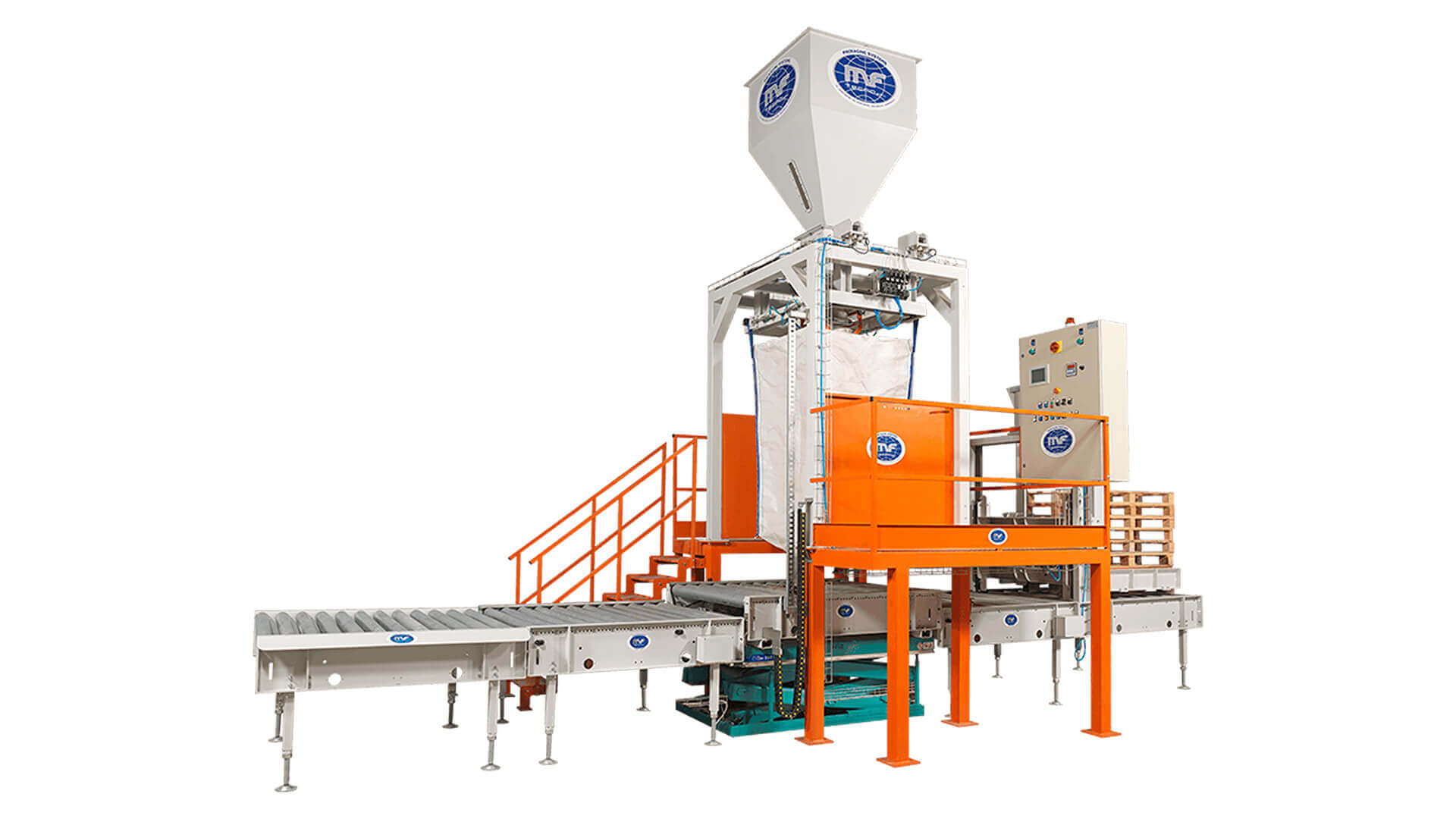 Vertical Packaging machine for sugar
Vertical packing machines are automatic machines that can form, fill and seal a bag starting from a custom printed film reel.
They are also commonly known as VFFS. In VFFS for sugar, you should consider production volumes and bags' size. In fact, there are various models of vertical packing machines, designed to match your needs.
Starting from the MF 50 and going all the way to the MF 62, we cover a wide range of bags size and production volumes.
We talk about a range from 50 Gr up to 30 Kg. Our VFFS for sugar can do 1200 bags per hour, but there are some exceptions: the high-speed MF 52 continuous, for example, can bag up to 4800 bags/hour.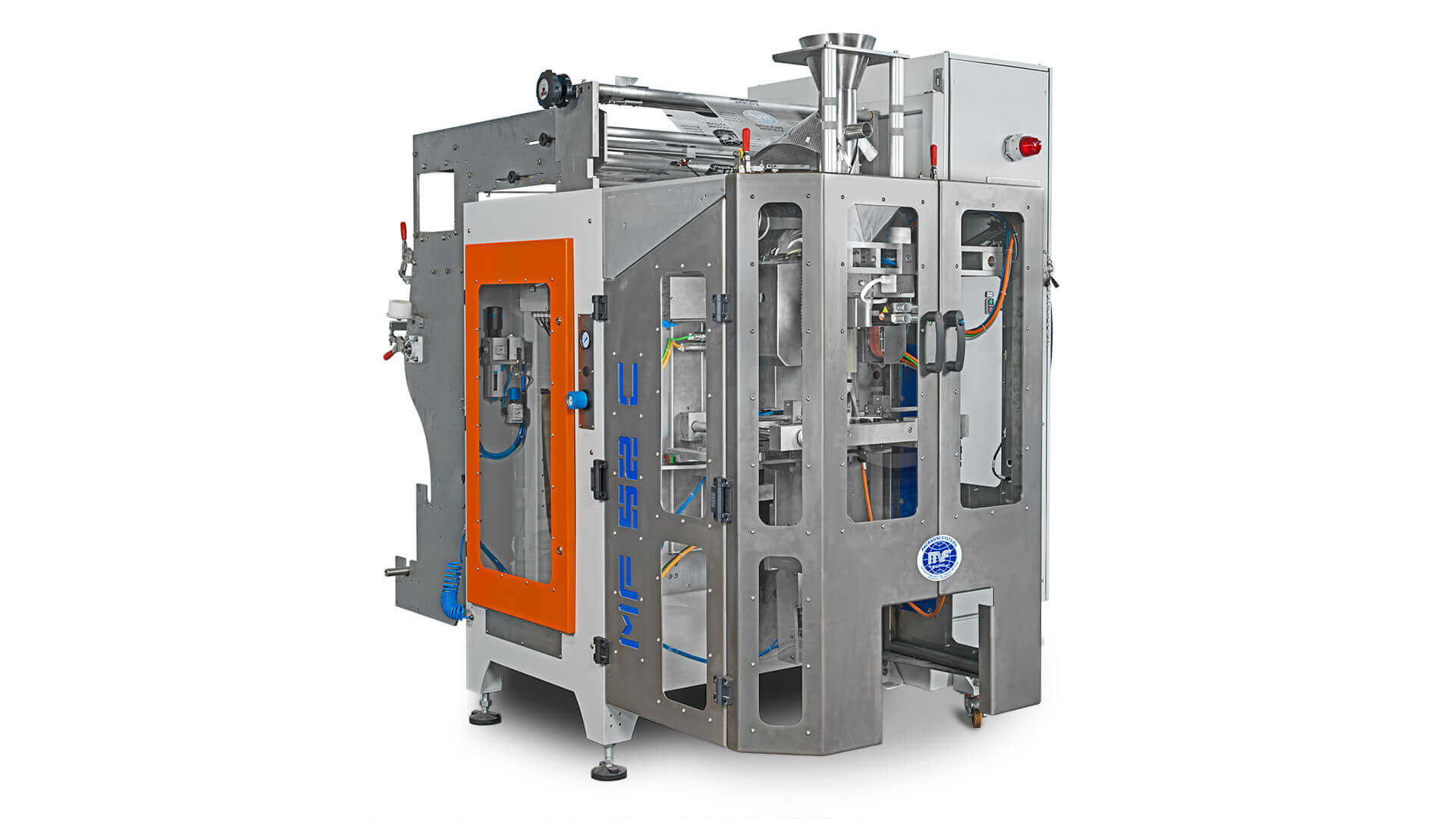 Second Packaging Machinery
Shrink Wrapping Machines
After the filling station, you might need to group the bagged sugar into bundles.
To fulfil this need you can add a shrink wrapper to your packaging line. A shrink film wrapping machine covers a programmed number of bags, using a heatable plastic film.
The shrink wrap systems can be vertical or horizontal, depending on the way the bag is fed to the infeed belt.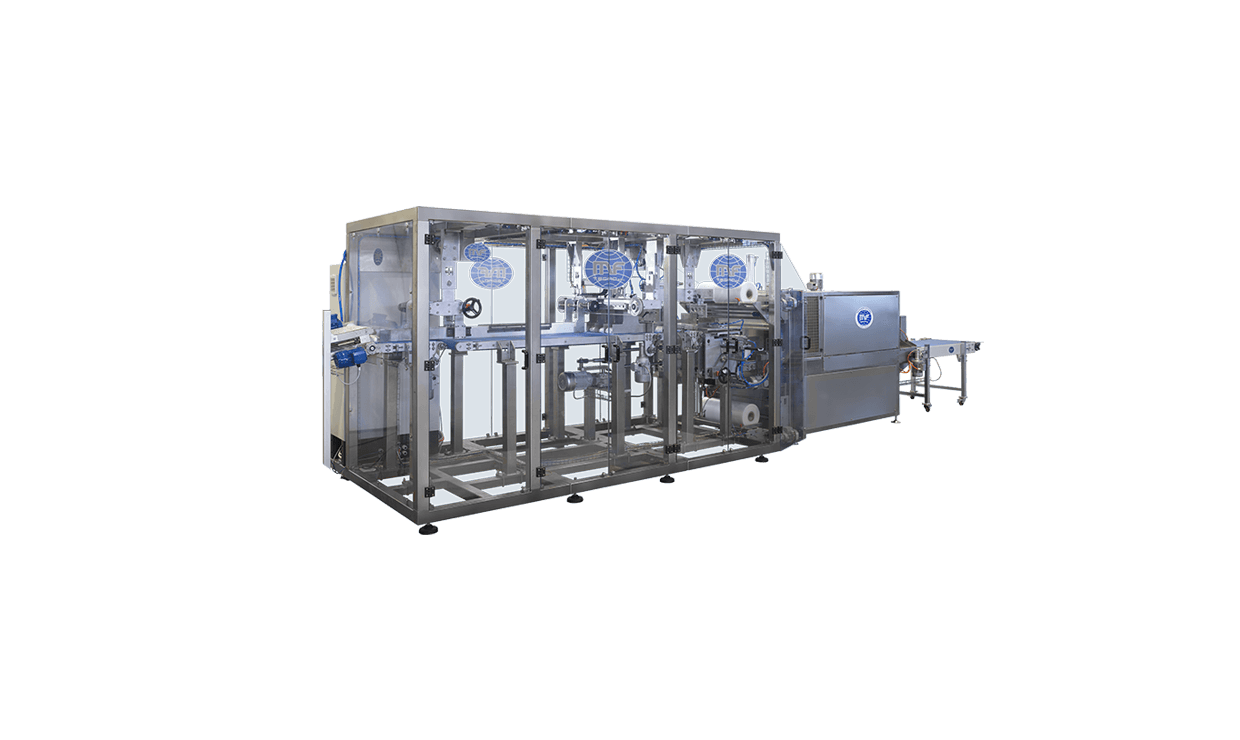 Case Packers
The case packers withdraw the dies from inclined, high-capacity storage, using a swing arm with suction cups, to open and form the box via a relevant electromechanical unit and then transfer it to the filling area. Once filled, the box can be closed using adhesive tape or hot glue.
The cardboard box Automatic Forming Line is made up of two main models (version 450 or 600), which differ due to the minimum and maximum dimensions to be processed and produced.
Then, the so formed arrives on a roller, where it is centred, closed and dragged towards the sealing unit, which can be using Hot-Melt glue or adhesive tape.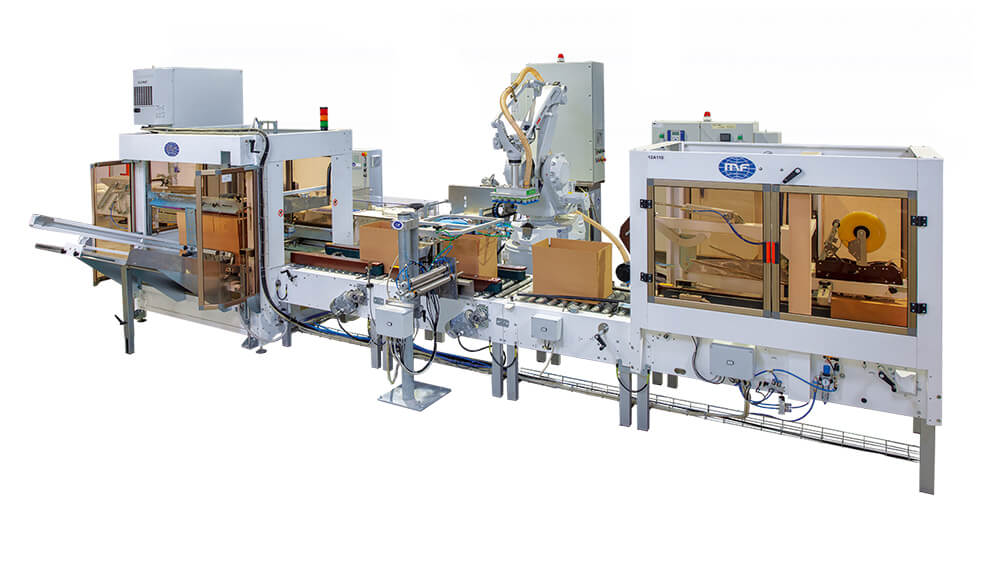 Palletizers for Sugar
After the packaging solutions, the shrink wrapping or the case packing the so created bags, bundles or cases are organized in pallets.
There are different palletising systems, depending obviously on the product that needs to be handled.
The final choice also depends if you are palletising bundles, bags or cases.
The choice you have with robotics palletizers is also based on production speed.
Cartesian palletisers for sugar are designed for medium productions and are flexible enough to palletise bags, bundles or boxes. The only difference is in the gripper.
For high productions, we recommend a Layer Palletiser. This type of machine is perfect for bags.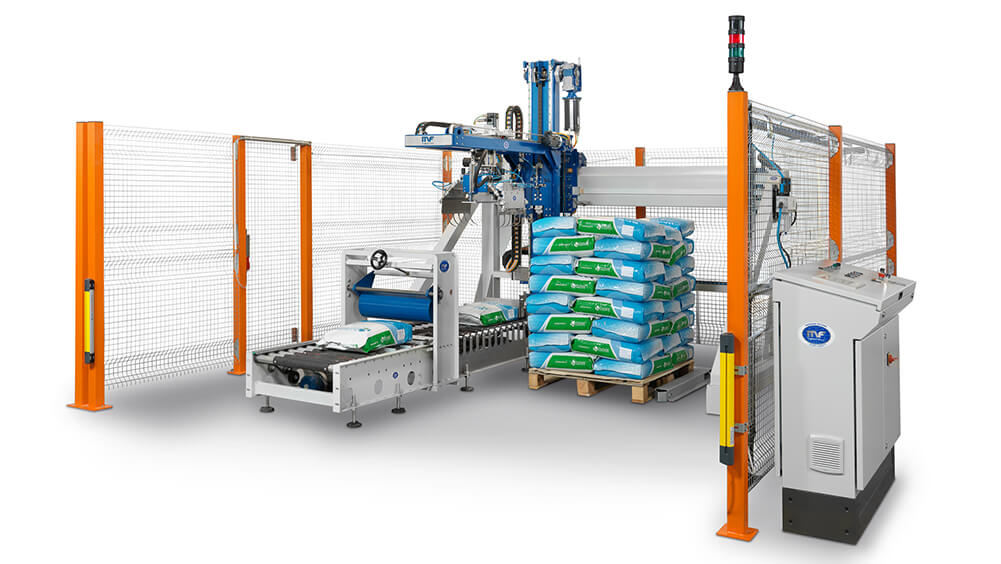 Pallet Wrapping Machines
After the pallet is complete, it's sent to the wrapping machine.
There are two kinds of wrapping machines: Automatic or Semi-automatic.
The semi-automatic stretch wrapping machines need a worker to remove the completed pallet with a forklift.
The automatic stretch film wrapping machines are best suited for high production and can wrap the pallet with a pre-stretch film by a rotating table or with a rotating arm.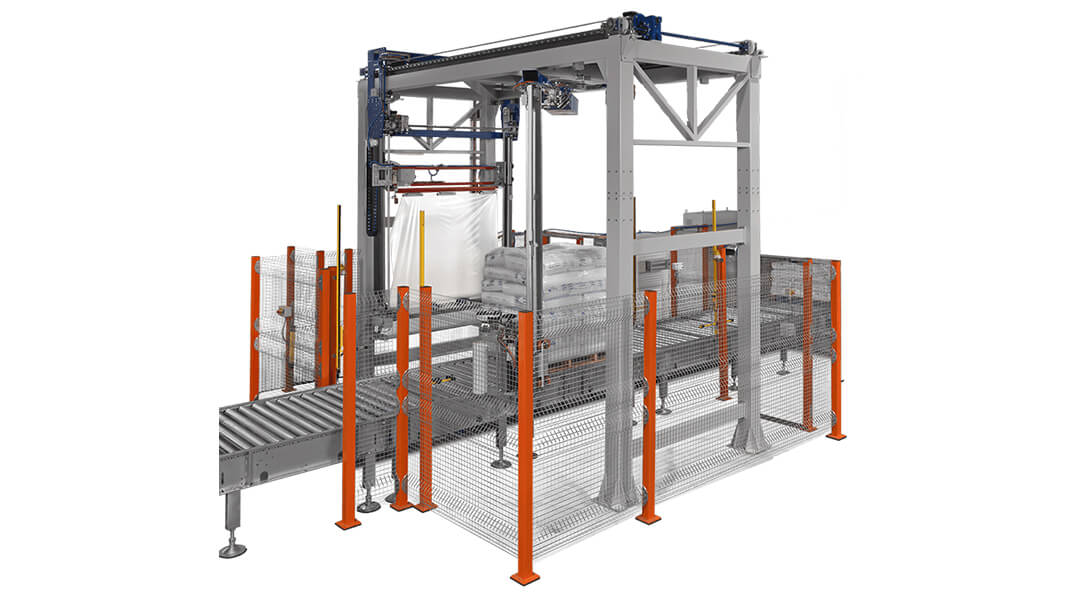 Top sheet applicator
When the pallet is wrapped you can use a top sheet film layer to protect it from atmospheric agents.
After all these steps, the bagged sugar is ready to reach your customers.