Sugar is a product universally present and used by every family. With such high demand, sugar producers constantly require two features for their packaging system: high production speed and maximum reliability to operate 24/7.
Especially in developing countries, these two requests have the common goal of reducing the cost of labor by increasing production levels. Manual packaging can also require 20-30 people at the same time, subjected to exhausting and intense work rates, in extremely precarious safety conditions. All this has been be replaced by a single automatic packaging line that requires a maximum of two operators, allowing not only to reduce the cost of labor but also to triple the hourly production.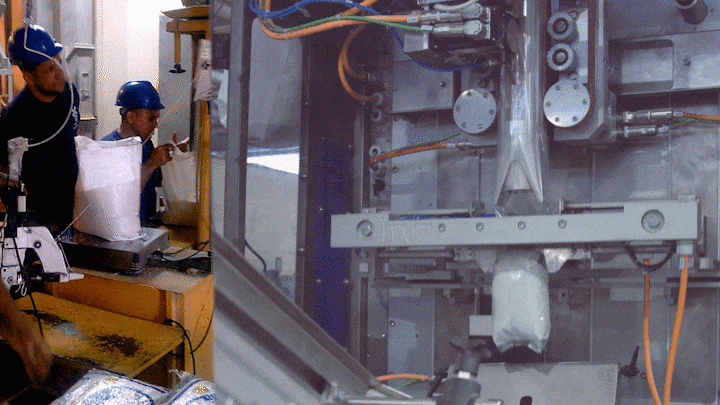 In this case we have an example of a turnkey plant for sugar in 1 kg packs for 4700 packs/ h. The packaging process starts from a ground hopper where the operator can unload the product from the big-bag or from another feeding line. From the hopper the product is transported at height thanks to a sidewall conveyor belt which pours the sugar into a multi-head scale, one of the most precise weighing instruments. Once the sugar has been weighed, it is packaged into bags with square bottom by the continuous vertical packaging machine MF 52 C. Thanks to the continuous movement (high /low) of the horizontal bar, the machine is able to reach productions up to 80 bags / minute.
Once the bags are packaged, they are first conveyed and grouped by two and finally wrapped in a film which, following the passage inside a "thermo-retractable oven", allows to obtain the typical bundle containing 10 or 12 packs.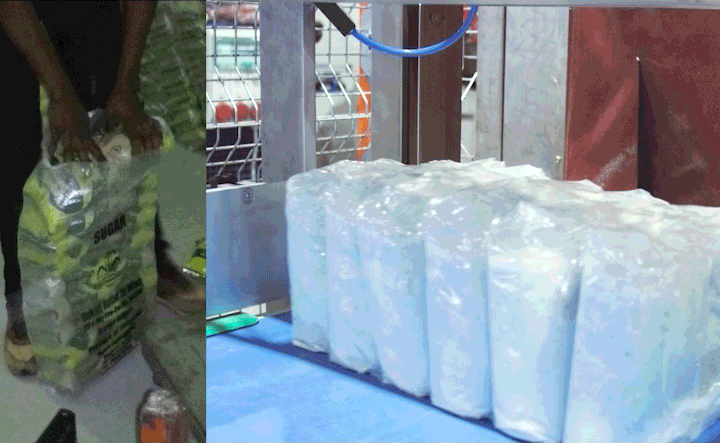 At the end of the system, an MF PCA SMART Cartesian palletizer was installed which allows the operator to pick up and transport the finished pallet to the storage area and making palletization faster, extremely precise and less heavy.