It is possible to optimize the production of biological or chemical fertilizers by choosing the right packaging for you.
We have seen how MIAL machinery technology makes it possible to produce fertilizers with a high eco-sustainable impact, also amortizing production costs. MF TECNO, our brand related to the packaging section, offers a wide range of solutions for fertilizer packaging, ranging from semi-automatic to fully automated solutions. In this article you will find a series of images and videos of fertilizer packaging systems installed around the world, completely designed and manufactured by MF TECNO.
Fertilizer packaging must have some main characteristics:
MECHANICAL RESISTANCE: Resistance in the event of impacts and falls to prevent the product from leaking
ENVIRONMENTAL RESISTANCE: Resistance to atmospheric agents that could damage or alter the fertilizer

These requirements must be met both in the case of organic fertilizers and in the case of chemical fertilizers. Let's now take a closer look at the possible fertilizer packaging solutions proposed by MF TECNO.
Bagging machines for preformed bags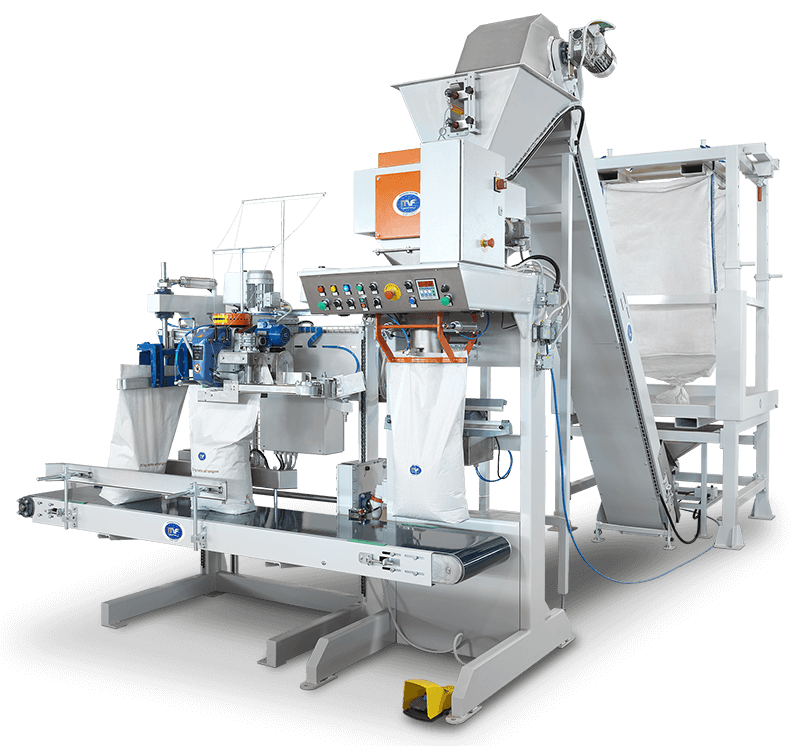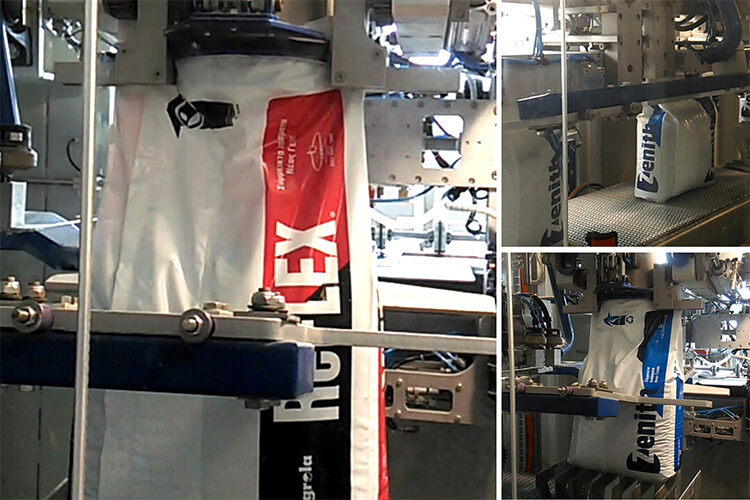 If your need is bagging fertilizer starting from a pre-formed bag, we at MF TECNO can offer our bagging machines for open mouth bags. These bagging machines can be semi-automatic or fully automatic.
Semiautomatic bagging machines: In this case, the constant presence of an operator working on the machine will be required. The semiautomatic solutions are well suited to productions with a relatively modest capacity and bags from 5 up to 50 kg. In their gross weight version, these machines can reach 150 bags/h. In the net weight version, they are able to bag up to 400 bags/h. Semi-automatic models are ergonomically designed to make them operator friendly. If you need to bag your fertilizer at high speeds, you will need to consider the possibility of an automated solution: in the fertilizer industry, accelerating the distribution phase can mean increasing profits.

Automatic bagging machines: in the context of totally automatic solutions for the packaging of fertilizers, there are many scenarios. MF TECNO automatic bagging machines for open mouth bags are intuitive, easy to use and extremely versatile: they adapt to many different production processes. At the same time, they provide a very high level of mechanical and electronic technology. The automatic machines of the IABA series is able to pack from 5 up to 50 kg and they are designed to process bags with gussets, too. The IABA 600 S, which reaches bagging speeds of 600 bags/h; the Universal 1200, capable of bagging 1200 bags/h; IABA 800 S 800 bags/h; The IABA 600 D model is a double-mouth bagging machine which can reach up to 1800 bags per hour. Our MF POUCH 3000 is one of our top of the range products. This machine is able to handle various types of bags in small sizes: from 300 Gr to 5 Kg. It covers production speeds up to 3000 bags/h. Speaking of small pre-formed bags, often intended for commercial and display purposes, you could consider a step-by-step bagging machine, capable of making 1 kg bags with a double bottom. If your need is to create large formats, up to 1500 Kg, the ideal solution will be a Big Bag filling machine.
FFS Tubular Forming Machine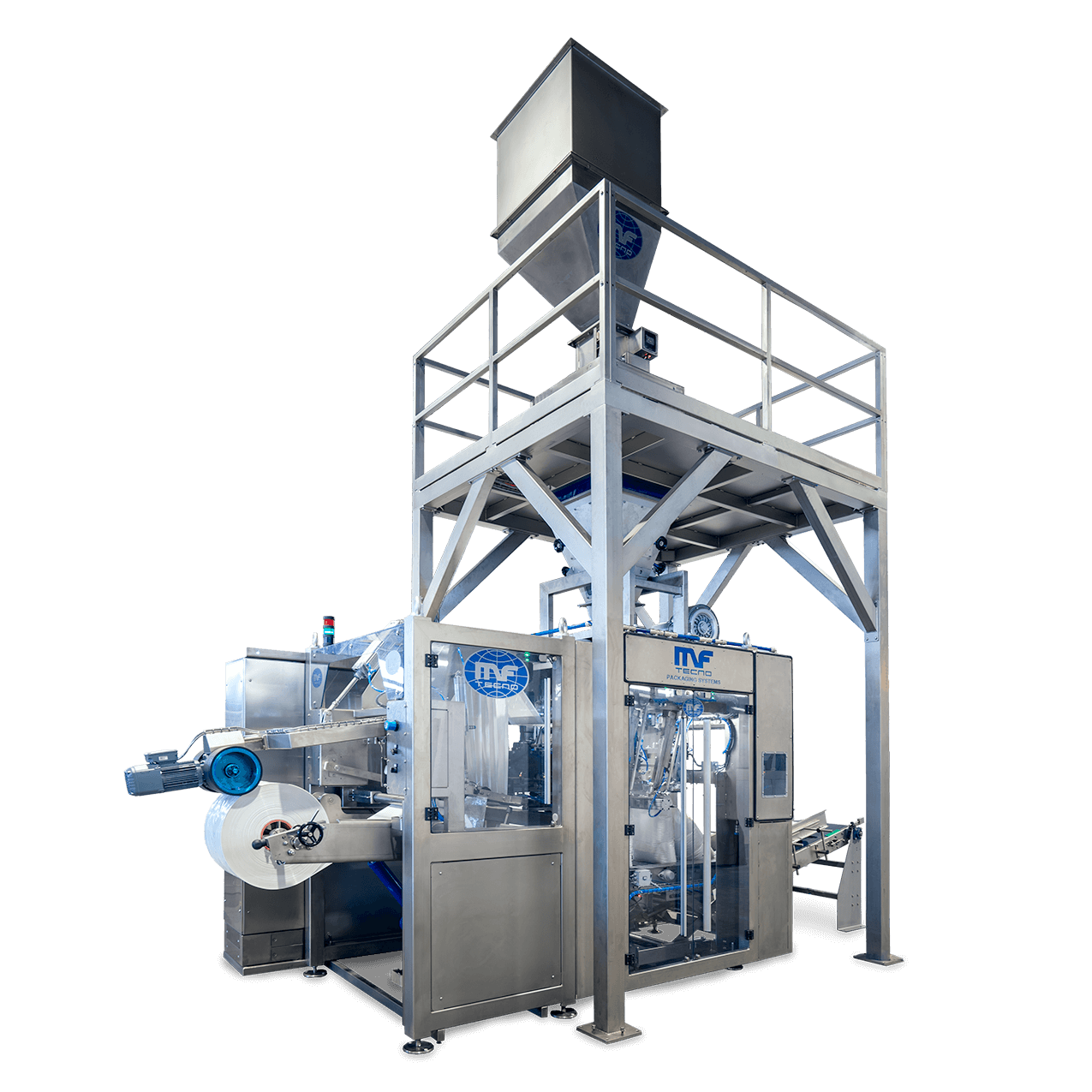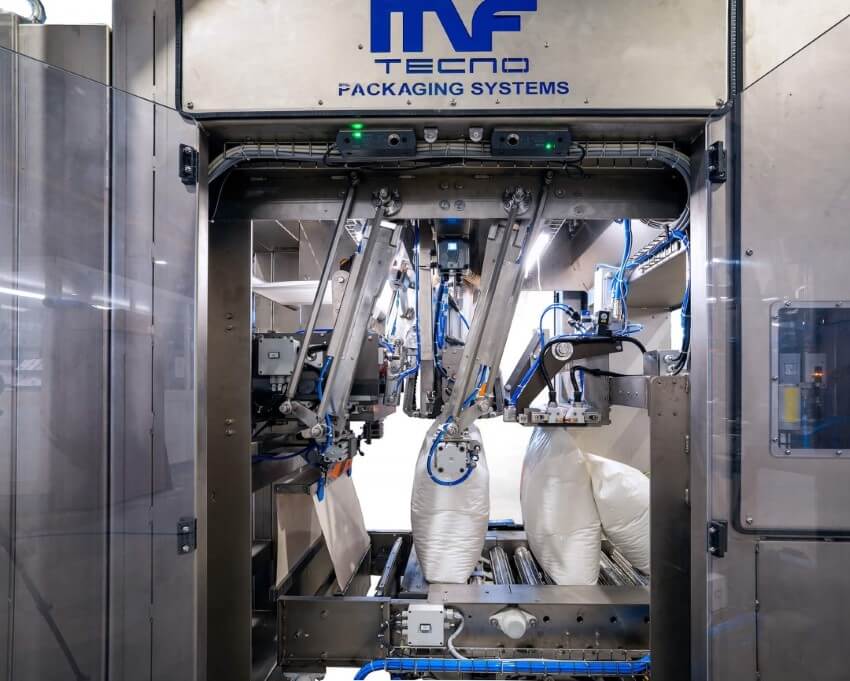 We have already mentioned how in the fertilizer industry the production quantity and the packaging speed play a fundamental role in creating high profit margins. When it comes to fertilizers, the resistance of the bag and its ability to defend the product from external agents are also essential elements. MF TECNO FFS Tubular forming machines MF TUBE fully satisfy these two packaging needs.
They are in fact designed to:
reach productivity levels of 2000 bags / h, depending on the characteristics of the product.
create a sturdy durable and compact package, free from vertical welding
Fertilizers are often characterized by a high degree of corrosivity. The structure of the Mf TECNO Tubular machines is entirely made of stainless steel for the management of food and corrosive products. MF TUBE FFS (Form Fill & Seal) Tubular Forming machine was created to manage the packaging of free-flowing, dusty and granular products. It is equipped with 3 operating stations: The first closes the bottom of the bag and cuts the film to the pre-established length. The second is the filling station. The third is the bag welding station. Stable and compact, the FFS Tubular Forming machine is suitable for installation even in the smallest production spaces. All operations can be managed remotely via PLC. If you are looking for a machine with high production performance and which preserves the quality of your fertilizer, MF TECNO tubular machines are ideal for your company.
Cartoners, Palletizers, Shrinkwrappers, Fertilizer Winders
Beyond fertilizer packaging: how to automate your business.
Automatic Shrink Wrapper
If your intention is to group bags into bundles, M F TECNO makes it possible by its automatic bundles creator. These are automatic machines are able to group a certain number of bags, creating compact and resistant bundles through a film of shrink film. We distinguish vertical or horizontal shrinkwrappers, based on the type of machine structure and customer needs.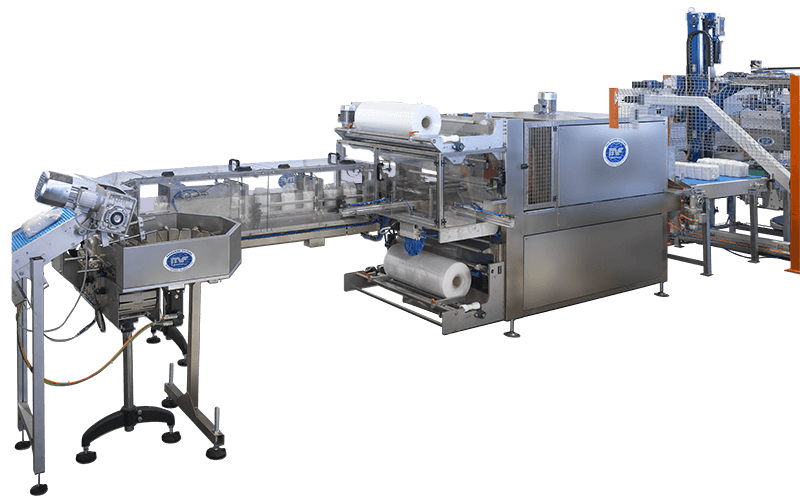 Automatic Case Packer
MF TECNO Automatic Case Packer (boxing machines) automate the process of filling cardboard boxes, commonly known as American cases (or RSC.) Both the 450 and the 600 version (minimum and maximum size that can be processed and produced) are ideal for medium and high productions. The ease of format change, the speed and simplicity of the closing systems make them highly performing tools, also suitable for those production contexts where minimum space is required. Through a suction cup system, the box is taken from the warehouse, opened and centered on a roller that will transport the box to the final closing station, which can be done by welding with hot glue or tape.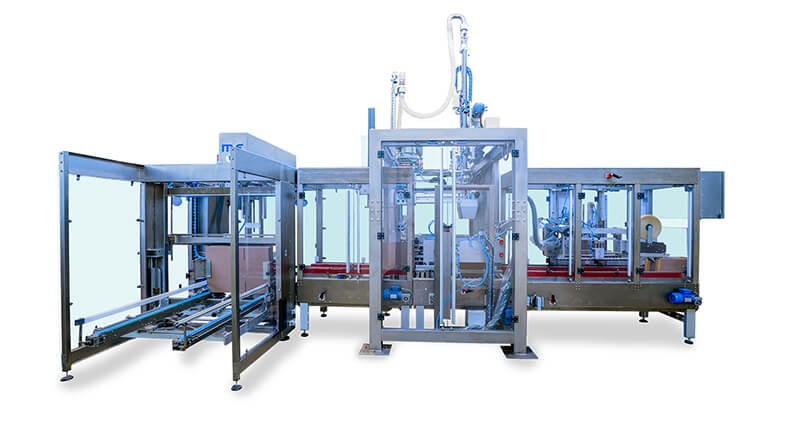 Palletizers for fertilizers
MF TECNO produces different models of palletizers: compact, telescopic or designed to reach very high production speeds (such as the "6 Columns" or " Push-typo" models). What remains unchanged is the high level of customization, programmability and sophisticated technology. Those who have or want to create their own business in the fertilizer sector should take into account the importance of an automatic palletizing system which works at high production speeds. Push-type palletizers are a good choice for palletizing in the fertilizer field. The MF PSM 1500 model is a push-type palletiser, capable of creating any type of layer. Allows work speeds up to 1500 bags/h. Among the most performing palletizers for medium and high productions, we find the 6 Columns model PRC 1000 and the PCA 700 Twin.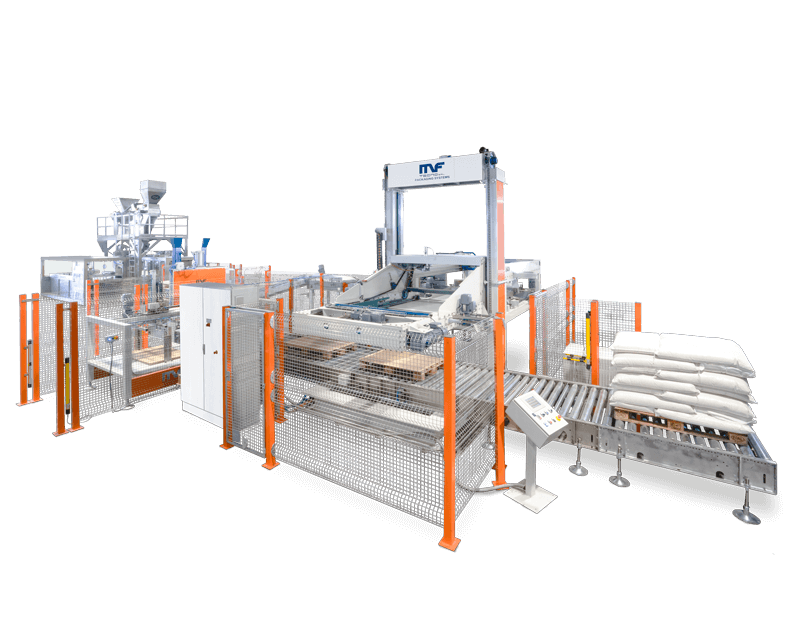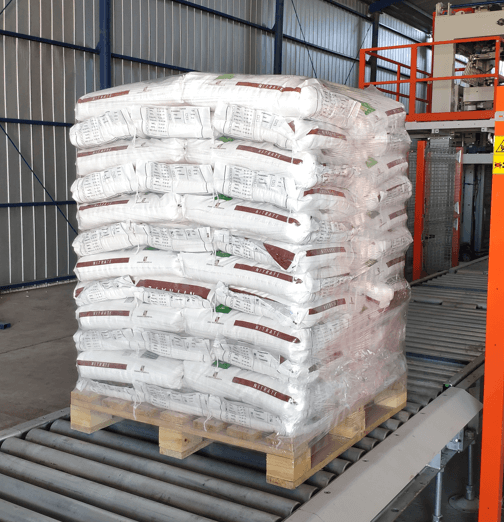 Pallet wrappers
Once a perfect pallet has been stacked, your product can be protected thanks to MF TECNO wrapping machines. The semi-automatic pallet wrappers is easily programmable and requires the intervention of an operator. The automatic machine activates the rotation of the platform or of the rewinder arm. The final result will in any case is a perfect stabilization of the palletised bags or packages.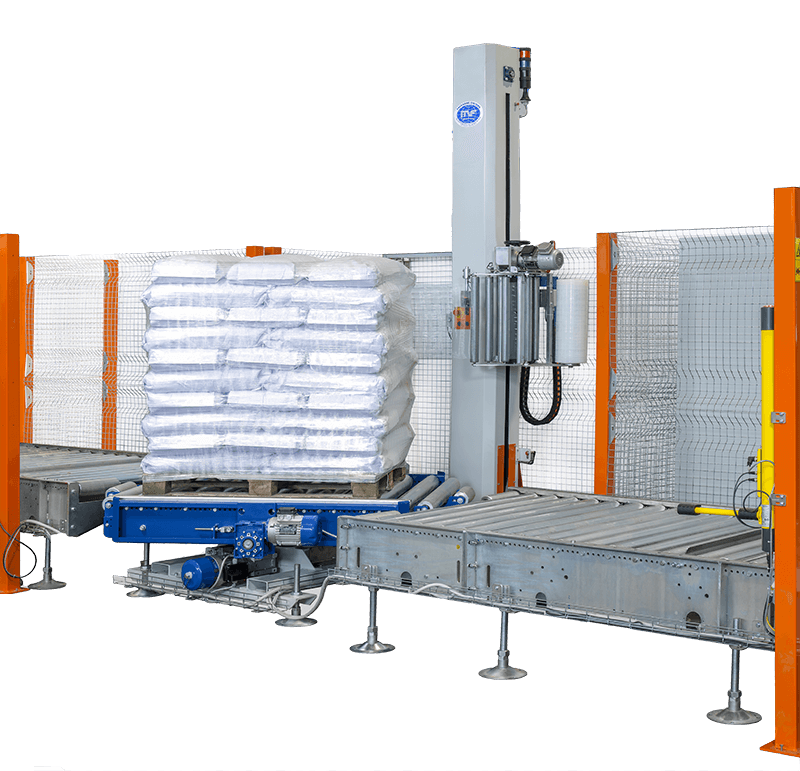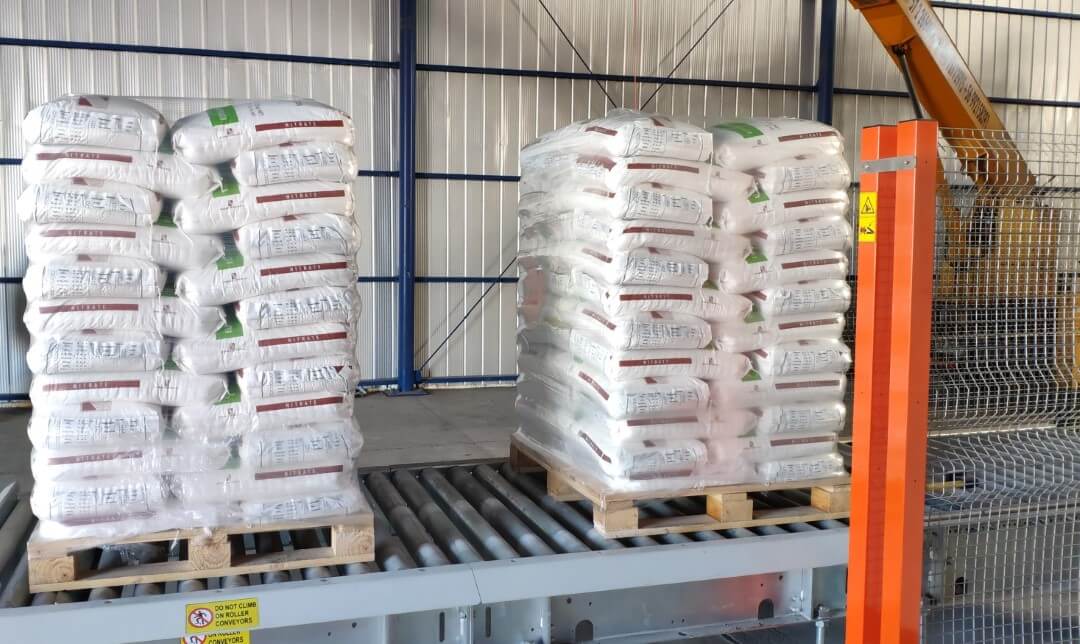 Top Sheet Applicator
At this point, the pallet can be protected with a top layer of film to prevent rain, humidity or other elements from changing the properties of your fertilizer. This step therefore protects your product from contamination and damage during transportation. And here's how, at the end of these phases, MF TECNO allows your product to be placed on the market at its full potential.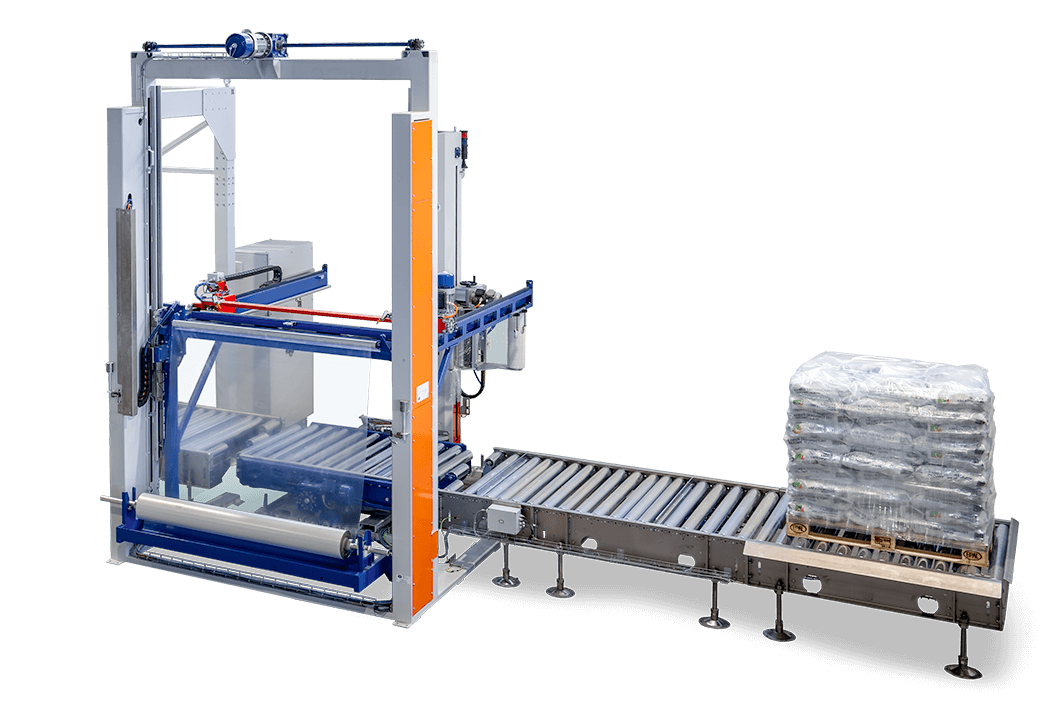 Here are some examples of our fertilizer packaging systems in action. Enjoy!