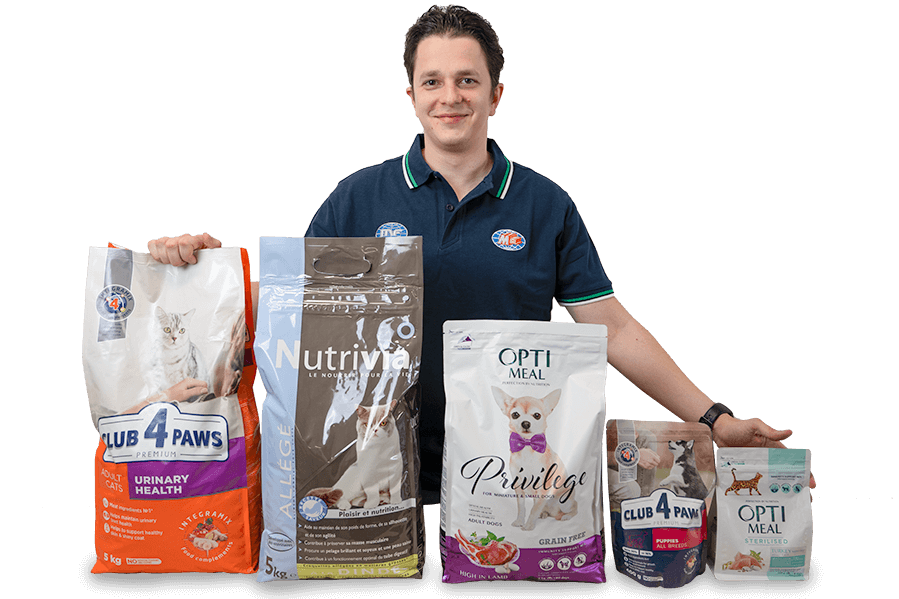 Pet Food packaging? It's our thing!
In pet food packaging, high production and aesthetics are essential.
Our machines can satisfy both needs.
MF TECNO has engineered and created several solutions for both open-mouth bags and bags from plastic reels.
Open-mouth bags (preformed bags): MF TECNO offers a wide selection of machinery.
The MF POUCH 3000 is a high-tech machine, the ultimate in pet food packaging.
Highlights: high production of up to 3000 bags/hour and maximum flexibility in format.
This machine can handle different types of bags like totani, doy packs and much more.
The IABA series and Universal model are the perfect solutions for medium and large bags, from 5 to 30 Kg,
Vertical packaging machines: concerning bags from a plastic reel, MF TECNO has designed the MF series to Form, Fill and Seal (VFFS) any type of film with any kind of product.
In this video, Marco illustrates one of our complete systems composed of VFFS MF 54, 6 Columns Palletizer and Wrapping Machine.
Oscillating Bucket Elevator (or Pendulum bucket elevator): this is the upstream feeding system installed on this line and the most suitable for this type of product. All feeding and conveyor systems are designed and manufactured internally by our teams.
Top hygienic standards: All MF TECNO pet food packaging machines can be manufactured entirely in AISI 304 stainless steel, from the frame to all parts in contact with the product.
More than Pet Food Packaging: Pet Food Processing
With the MIAL brand and 50 years of experience, we engineer and manufacture the complete range of machinery necessary for the production of dry pet food. From the storage of raw materials to the finished kibble.
Food Packaging: all available solutions.
Go to the article to discover the many solutions we offer for Pet Food packaging.

Discover more ❯