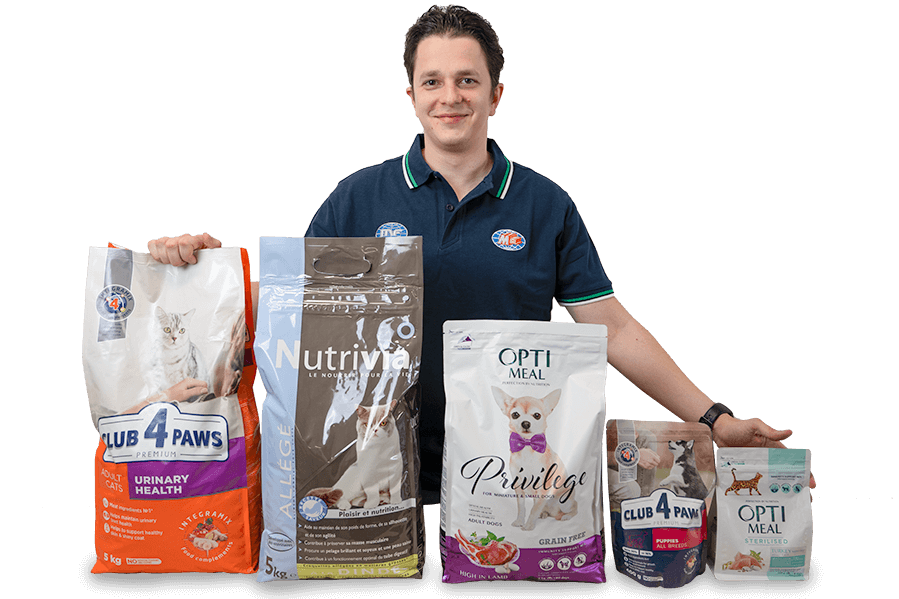 Thanks to the use of innovative and cutting edge technologies, all of the machines proposed, from the simplest to the most automated and high performance, are designed always to guarantee that Pet Food is packaged perfectly.
The Pet Food can be dosed using net weight or gross weight weighing systems until reaching use of vibrating channels or multi-head systems for high production.
Pet Food can be packaged using:
vertical packaging machines, for 50 g to 25 Kg
bagging machines for packaging in open mouth bags up to 50 Kg
big-bag machines for packaging large quantities
In order to provide its clients with increasingly flexible and high-performing work tools, MF TECNO offers a wide range of solutions for packaging pet food such as the IABA 600 and UNIVERSAL models, or the vertical packaging machines with bags from a reel, with very fast packaging speeds also in the smallest formats.
All of the pet food packaging machines can be manufactured entirely in AISI 304 stainless steel, in addition to the parts in contact with the product.
Using the shrink wrappers and case packers, the packaged pet food can be organised in bundles and introduced into boxes. Finally, thanks to a wide range of palletisers, the packages can be placed on pallets and wrapped by automatic and semi-automatic wrappers.

Discover more ❯