The Case Packer MF CUBE is a secondary packaging system for top loading of bags, doypacks, bottles and every type of containers into American cases (also known as RSC cases).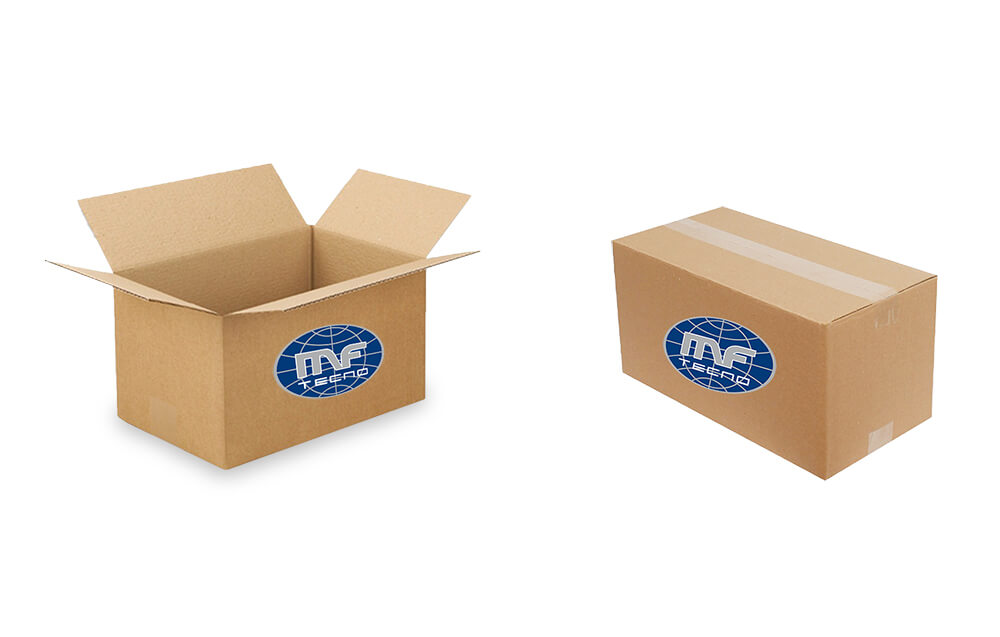 How MF CUBE Case Packer works in short:
Three basic steps:
Forming and sealing the bottom of the case
Picking up and leave the product into the case, using a special Pick&Place system
Sealing the bottom of the case
Case type: American case (RSC).
Your product: Bags, doypacks, bundles, bottles and every type of containers can be placed inside the case.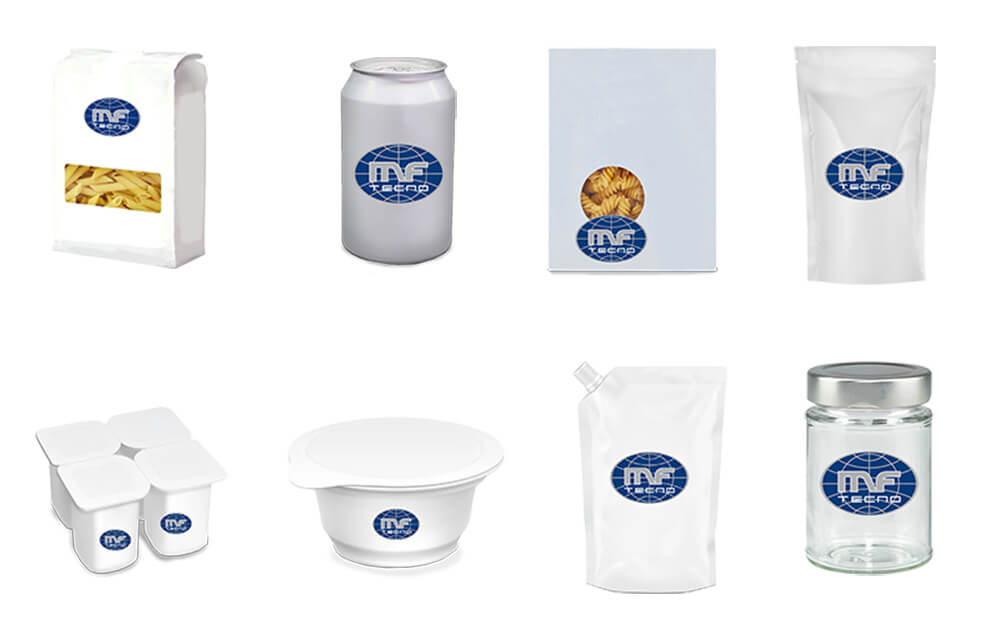 What makes it special:
Modular system: possibility to choose the stations needed and to combine them freely
Entirely made of AISI 304 stainless steel
Type of Sealing: hot melt glue, adhesive tape or combination of both
Flexibility: possibility of adding robotic stations or sealing systems at a later time
Pneumatic Pick and Place system: flexible, adaptable to any production needs
Product positioning inside the box according to shape and rigidity needed
Let's know more about MF CUBE Case packer!
Modular Structure: complete customization and the inclusion of various components that suit the production requirements the best.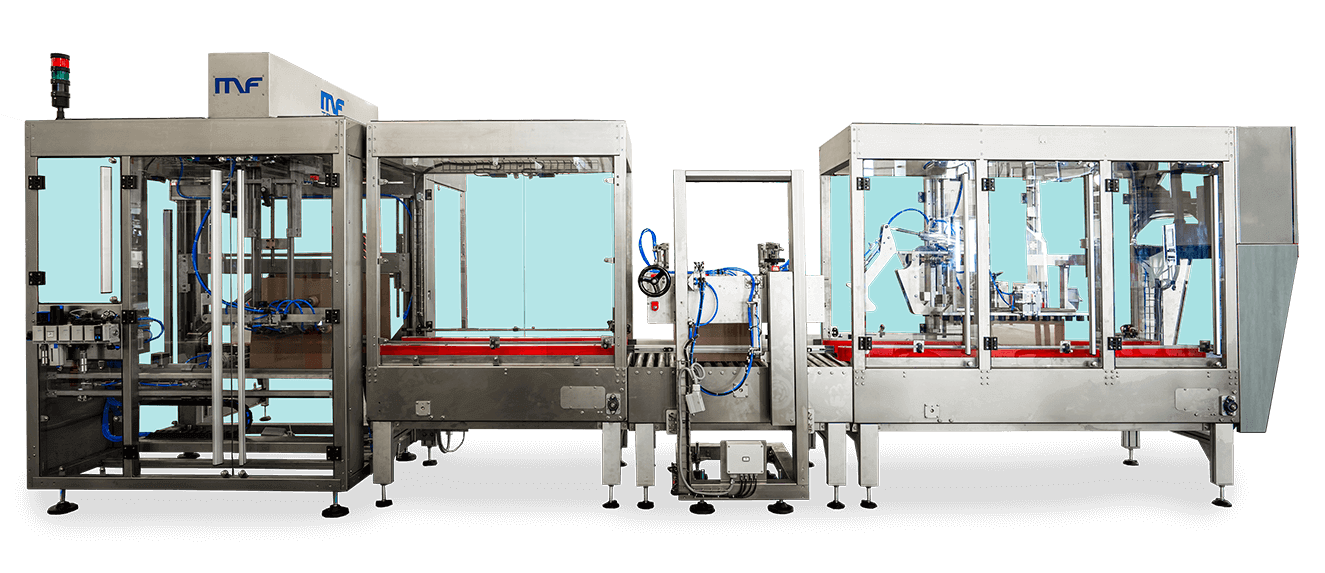 High hygienic standards: structure entirely made of stainless steel AISI 304. Ideal for food products.
The MF CUBE Case Packer Machine is a complete robotic packing solution, composed of 5 units:
The empty boxes dispenser. Available in automatic or gravity-based version.
Box erector to form the box
The loading roller conveyor
Top loading Pick and Place System
Box closing and sealing by hot melt glue, adhesive tape or combination of both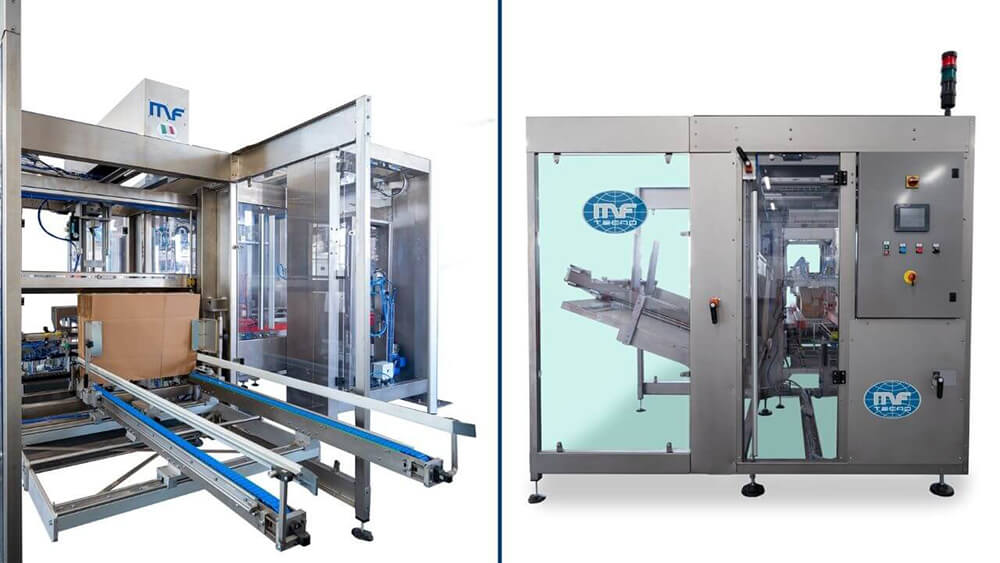 The closed cardboard is picked up from the dispenser and opened by means of suction cups mounted on a mechanical arm.
The cardboard is held by suction cups even during the folding of the lower, front and rear flaps to get the maximum precision.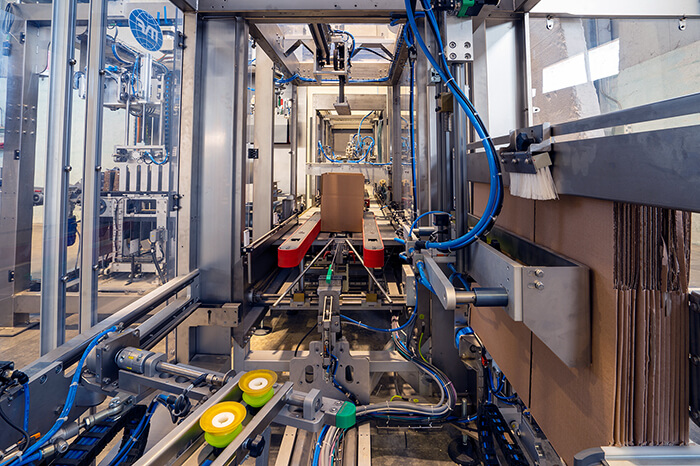 On the roller conveyor the box is centered, closed on the bottom and dragged towards the sealing unit to have a perfect shape retention. The sealing can be done with adhesive tape, hot melt or by both sealing methods.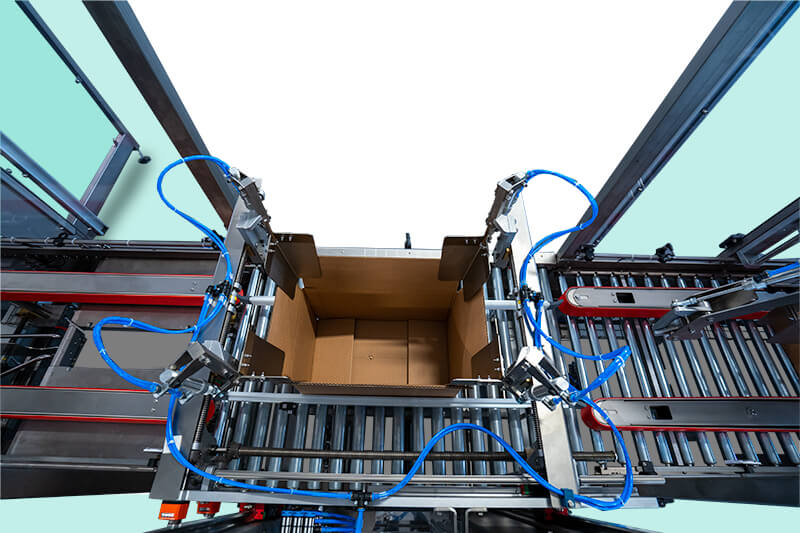 The insertion of the bags into the case can be managed automatically (by Pick and Place system) or manually.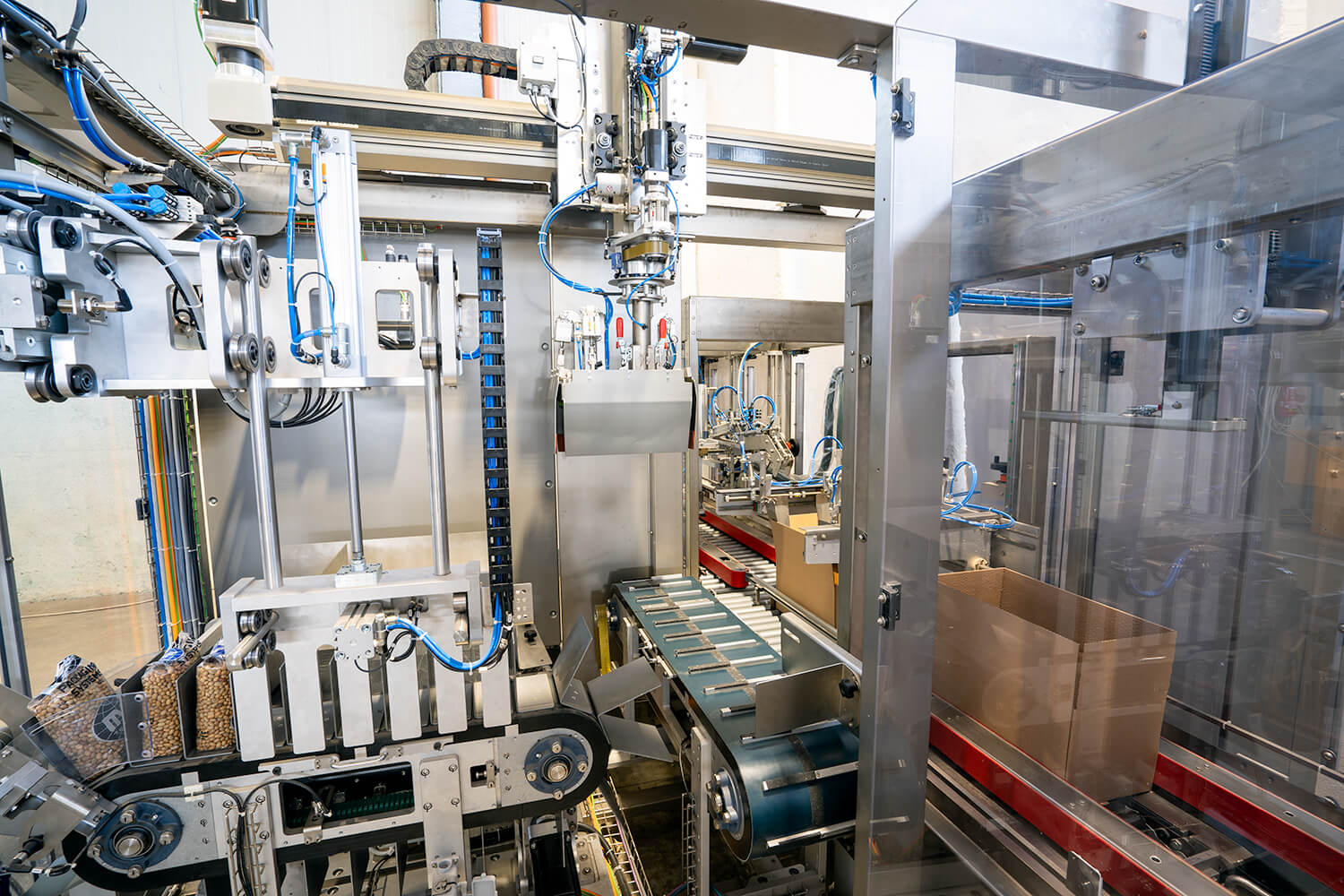 The flaps opening system can be either automatic or semi-automatic. This system guarantees the perfect centering of the box at the time of insertion by Pick and Place.
After the filling station, the American case (RSC) is transported to the upper closing station.
The sealing can take place by means of tape, hot melt or with both methods.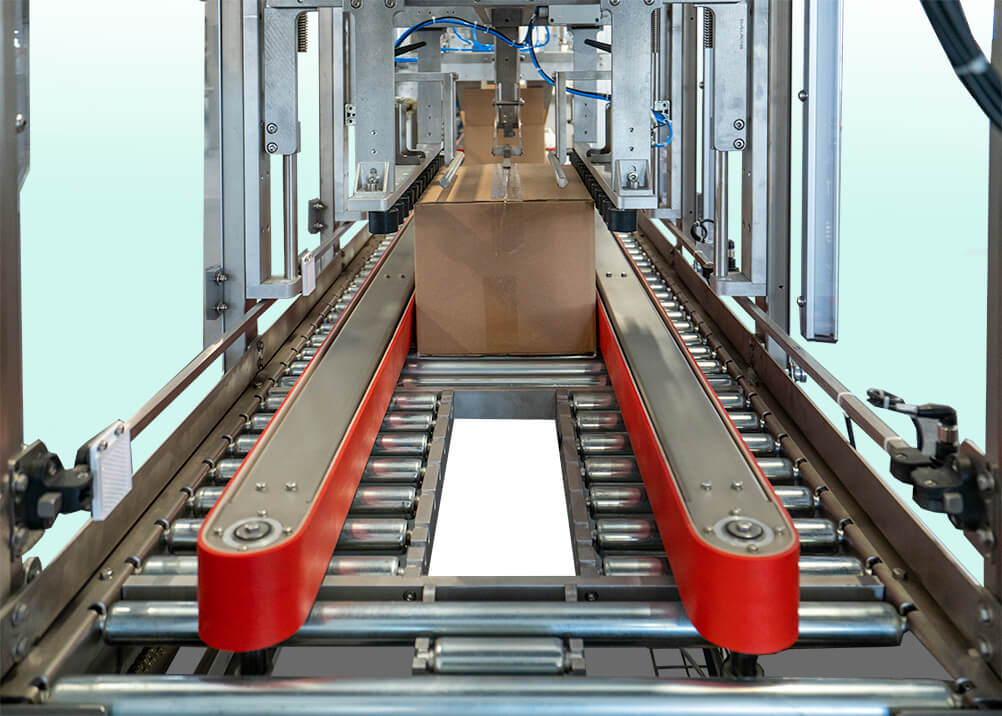 In the following photos you can see MF CUBE Case Packer Machine, complete with automatic empty box dispenser, Pick and Place system and flaps opening device.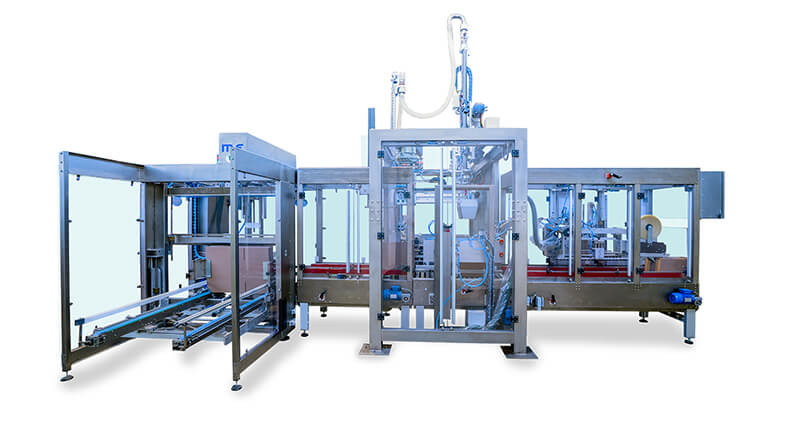 Below are some videos of our MF CUBE cartoning machine in action:

Request information

Download pdf