In this article, we will discuss a huge system for pet food packaging, consisting of 4 complete packaging lines, ranging from weighing to secondary packaging.
Our customer's goal was to package dry pet food in various formats, thus being present in the market with all the formats most purchased by consumers.
The packaging lines in this plant are for small and large formats, with open-mouth fillers and vertical packaging machines.
As MF TECNO, we have supplied the packaging machinery for weighing, packaging, secondary packaging, palletising and pallet wrapping.
In every single part of this complete packaging system, we will assess how we have supported our customer in meeting all their packaging needs.
Weighing System
All the packaging lines composing this plant are equipped with multi-head weighers, the most suitable weighing system for pet food. This type of scale adapts perfectly to any pet food format, guaranteeing high production rates on both small and large formats.
The multi-head model chosen is the 14-head model made of stainless steel, to guarantee the high hygiene standards required by the sector. The weigher consists of a central hopper, with a cone-shaped design to facilitate product distribution to each single head.
The heads are equipped with a vibrating channel, pre-dosing, dosing and product release system.
All electronic parts are controlled by PLC. The weighing machines use exclusive software programmed in-house by MF TECNO's team of developers.
The heads are equipped with a vibrating channel, pre-dosing, dosing and product release system.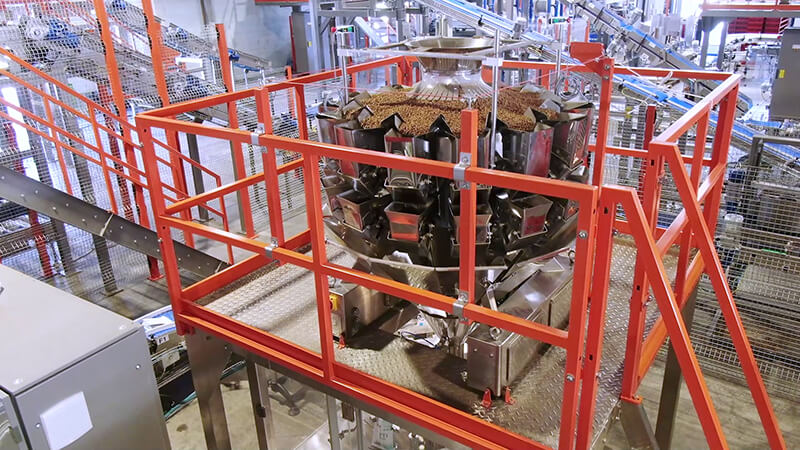 Packaging lines
Packaging line for small formats from 200 g to 1 Kg with MF POUCH 1000 bagging machine, secondary packaging with Pick and Place and cartoning machine, MF PCA SMART palletiser.
Packaging line for medium and large formats and high production in UNIVERSAL 1200 open-mouth bags from 3 to 20 Kg, MF PRC 1000 layer palletiser.
Twin MF 52 continuous motion vertical packaging machine for bags from 200 g to 1 kg, with secondary packaging system 'Bags in Bag'. Bags in Bag is created by a second VFFS, model MF 58 and layer palletising by MF PRC 1000.
Vertical VFFS packaging machine for pillow or four-seal bags from 2 to 12 Kg and layer palletiser MF PRC 1000.
1) Small format pet food packaging plant
The first plant consists of a multi-head weigher, the MF POUCH 1000 carousel pet food packaging machine, an automatic case packer and an MF PCA SMART box palletiser.
The MF POUCH 1000 packaging machine is perfect for small-format packaging of granular products such as dog and cat food. The carousel plays a key role in this machine, allowing packaging to take place simultaneously on more than one bag.
It is also particularly suitable for food products such as ice cream premixes, chocolate chips and the like.
This bagging machine achieves production levels of up to 1000 bags per hour.
The various stations of the machine take care of opening the bag, filling it, sealing the ends and then leading it to the Case packing machine, using automatic conveyor belts.
The MF CUBE case packer forms fills and closes American-style boxes with top loading. Closing can be done with glue (hot melt), adhesive tape or both methods.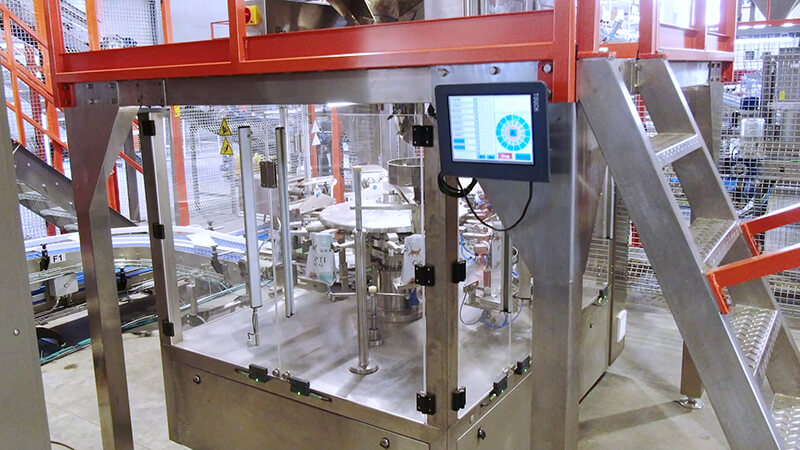 2) Packaging line for medium and large formats
The second packaging line is dedicated to filling and palletising pre-formed bags from 3 to 20 kg. The UNIVERSAL 1200 bagging machine was chosen for its versatility and high production output. The possibility of reaching up to 1200 bags/hour and the ability to handle a wide range of bags make it an excellent solution for pet food packaging.
The great mechanical peculiarity of this machine is the bag-filling mode. In fact, the UNIVERSAL 1200 differs from the other bagging machines in the IABA range in that the bag is filled either during or during the transfer, thus reducing packaging time.
Once filled, the bags are transported to the removal and sealing station.
Automatic belts then convey them to the six-column MF PRC 1000 palletiser, the ideal choice for the production levels required by the customer. Once palletised, the bags are wrapped with film to secure them on the pallet and protect them from impact and weather. The wrapping process takes place via the MF WRAP 60 rotating arm pallet wrapper. A top sheet is also added for additional protection.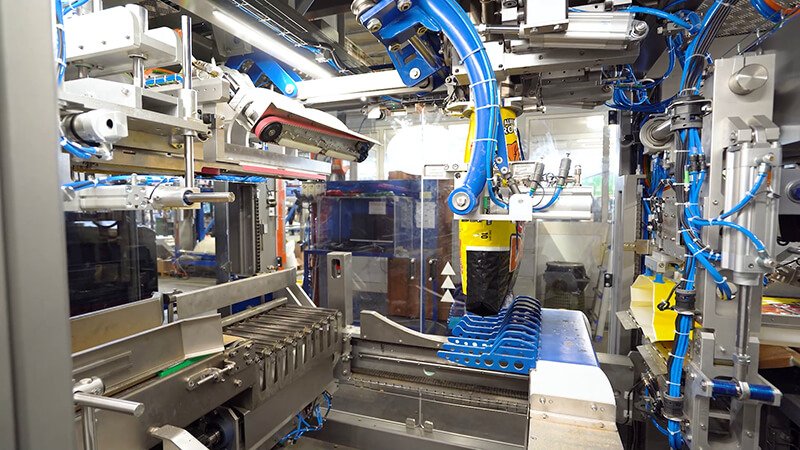 3) Small format line with bags-in-bag secondary packaging
This third line consists of 2 continuous VFFS MF 52 vertical packaging machines. The continuous motion means that the parts that operate them cut the reel and seal accompanying the bags during the filling phase, saving time. Once the bags are formed and filled, they are conveyed by automatic belts to a second MF 58 large-format packaging machine which generates the bag-in-bag.
In the bag-in-bag, several bags are grouped inside a larger one. The number of bags inserted varies according to the format selected at the time, while the format of the outer bag remains fixed.
After being grouped, the bags are directed to the automatic palletising, pallet wrapping and top-sheet system.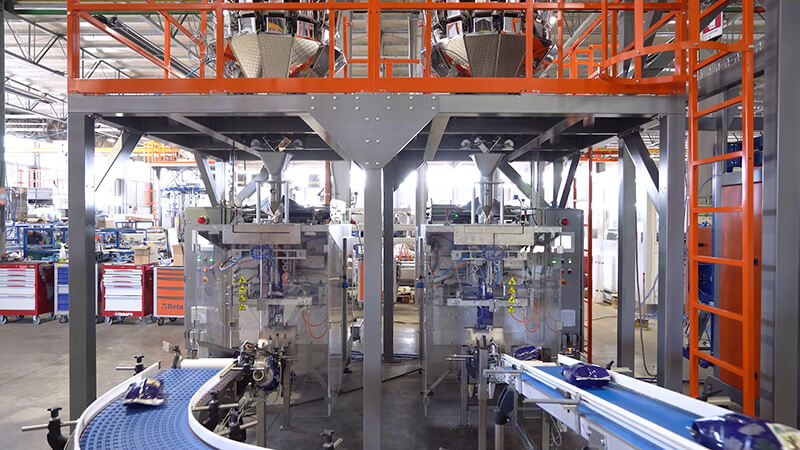 4) Packaging system for large formats in reel bags
The MF 58 packaging machine is a very versatile machine that can handle a wide range of formats and two types of bags. In fact, this packaging machine can handle formats ranging from 2 to 12 kg with a pillow shape or four sealed bags. By using this machine, we were able to meet the needs of our customers, who required size changeovers and different types of bags, while having limited space.
The strength of our company, in fact, is that we design and manufacture all the machinery in-house, managing to guarantee a maximum level of customisation.
Once packed, the bags are transported to the MF PRC 1000 6-column palletiser, which can handle an output of 1200 cycles per hour. This palletiser was chosen for the compactness it can deliver to the finished pallet. Its special feature is that it is able to organise and compact one layer at a time, giving the pallet a regular, square shape.