What is a palletizer?
The palletizer is a machine that allows you to stack and organize products on a pallet quickly and efficiently.
The palletizing process in companies is one of the fundamental phases that requires greater precision and attention:
for product safety and avoiding accidents
to store or ship the goods as soon as possible
to maximize the warehouse surface used
The palletizer therefore allows the goods to be stored in a safe and orderly manner. In this way it is possible to ship large quantities of goods with the least possible number of packages by courier.
The palletizer can be automatic or semi-automatic. The automatic palletizer is connected to a handling system that allows the transport of goods and pallets to the destination area. In the case of a semi-automatic palletizer, it is the workers who manually move the pallets into position by hand or with a forklift truck.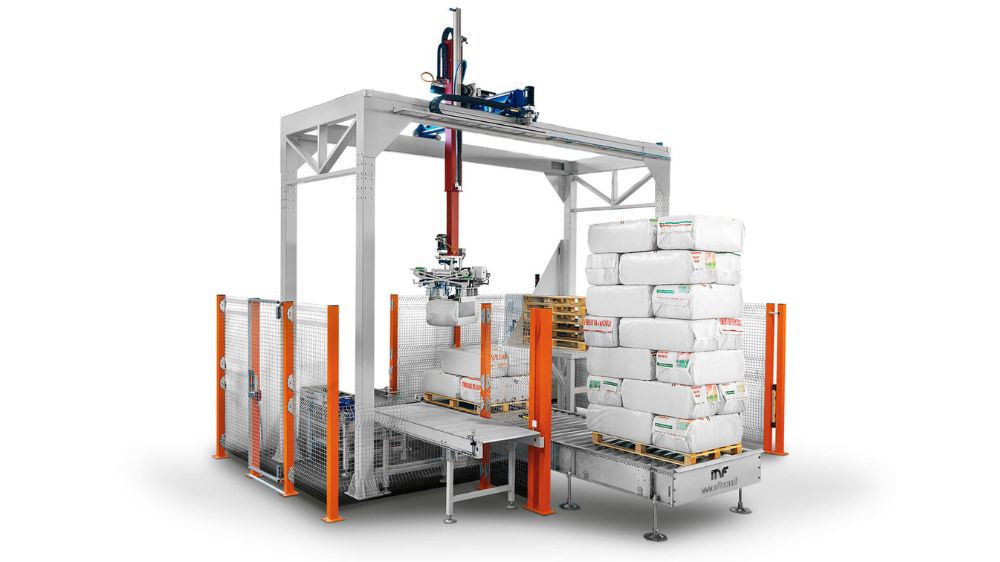 How does a Palletizer work?
The palletizer consists of a rigid structure on which a mechanical arm equipped with clamps slides vertically and horizontally to transport the goods from a storage point, for example at the end of a packaging line, to the pallet. The mechanical arm moves by translating along 4 Cartesian axes and at the same time around its own vertical axis, descending to the height necessary for the clamps to open at the moment of gripping and to pick up the product to be stacked on the pallet.
The palletizer follows a route established during the drawing board, with the aim of positioning the product on a standard-sized pallet or in the position assigned by the programmed palletizing scheme.
Through a touch screen panel, an operator sets the conditions according to which the machine must carry out its work autonomously, all at a higher work rate than manual work.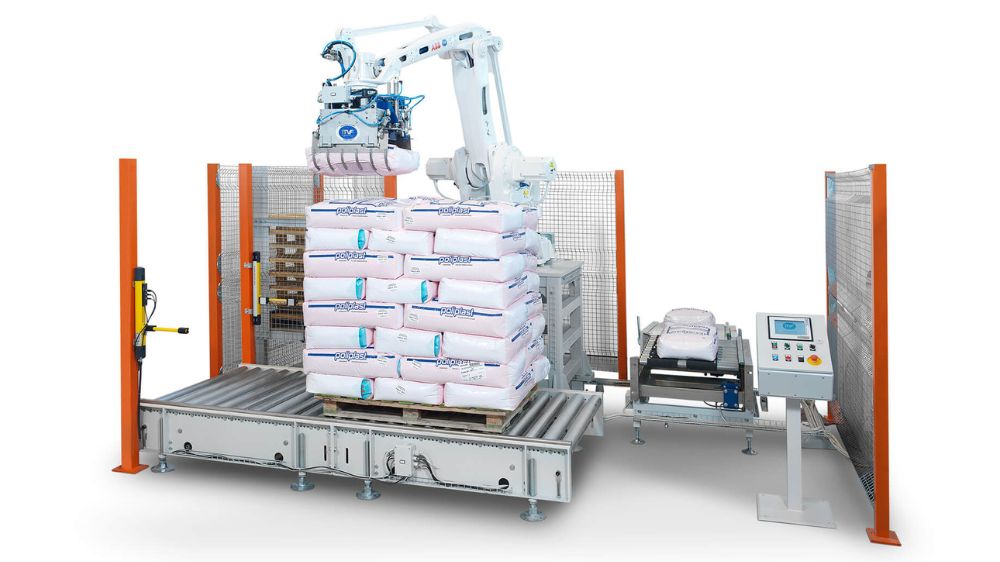 What are the Palletizer models?
The palletizers on the market today are of various types:
Cartesian palletizers: used when high intensity work speed and high positioning accuracy are required. They are simple, reliable and flexible systems that require minimal dimensions. Suitable for the most different types of products.
Layered palletizers: Suitable for high production needs, they are able to transfer an entire layer of product on pallets, obtaining extremely stable and compact pallets
With magnetic head: used for palletizing metal products
Robotized palletizers: Suitable for many sectors, they are precise, fast and flexible palletizers. The robotic palletizing solutions are intended for those who need particular qualities of sturdiness, versatility and production speed.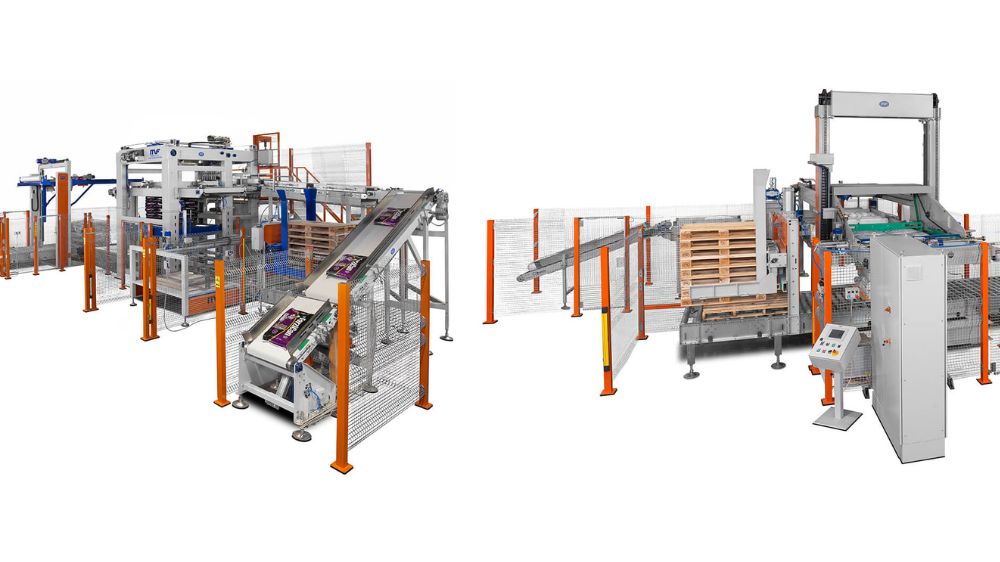 Advantages of a plant with a Palletizer
Any company that manages a fair number of pallets is suitable for investment in a palletizing system, thanks to the great benefits it will derive both in economic and organizational terms.
The positioning of the goods on the pallet requires a considerable use of time and workers, with both physical and economic consequences and a margin of error.
For this reason, many companies of the most diverse sectors and sizes use palletizing solutions, obtaining enormous advantages. In particular:
Reduction of personnel expenses by 70%.
Management cost savings of 35%.
Reduction of accidents at work
Safety for the worker in the handling of materials.
Increase in productivity by 30% as there is no need for staff supervision.
Always certain execution times
Maximum space optimization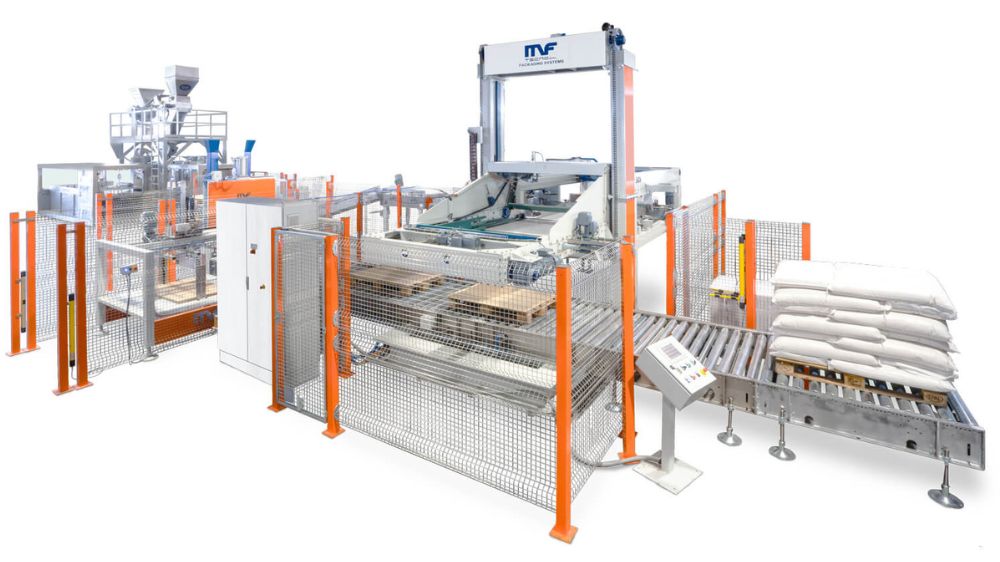 Palletizing solutions proposed by MF TECNO
MF TECNO has designed a wide range of automatic and semi-automatic palletizers capable of managing all customer needs and processing bags, boxes or bundles of any type with the maximum precision. The common denominator of all palletizers is the high level of customization and programmability together with refined technology. Below, the categories of palletizers that MF TECNO is able to offer:
Cartesian palletizers: they stand out for their high reliability and precision. The ease of placement and the wide level of customization make them perfect solutions for any production reality. MF PCA SMART, COMPACT MF PCA 400, MF PCA 700, 6 COLUMNS MF PRC 1000
Layered Palletizers: for bags, cardboard boxes or bundles, ideal for handling high productions. PSM 1500/S
Robotized Palletizers: anthropomorphic palletizers for bags, cartons or bundles. Ideal for handling medium and high productions and for working in confined spaces.
Depalletizing systems: automatic solutions for picking up packages or boxes from a pallet
Pick & Place solutions: for filling boxes using anthropomorphic robots or traditional Cartesian solutions.