Seed packaging machine in the USA - MF TECNO
If you are considering the purchase of a seed packing machine, you are in the right place!
Perhaps, you are wondering which packaging system is best suited to your needs.
In this article, we will take an in-depth look at the different options available through the analysis of a grains packaging system installed in California. Our US branch in Turlock, California, allows us to handle the demands of the North American market in a particularly efficient and timely manner.
For more than 15 years, we have been implementing turnkey packaging solutions or integrating existing systems.
From transportation systems to palletisers.
From primary to secondary packaging.
Made in Italy quality at the service of different customer needs.
In this article we will explore in detail:
Seed market in the USA
Turnkey packaging solutions
MF Tecno Open-Mouth Bagging Machines
MF Tecno Palletisers
Seed market in the USA
The seed market is one of the industries with the greatest growth perspectives in the future. According to the America seeds report, the size of the North American market is about USD 6 billion.
It is projected to grow at an annual growth rate (CAGR) of 8% from 2023 to 2030. Demand for protein meals and genetically modified crops (GMOs) will continue to grow.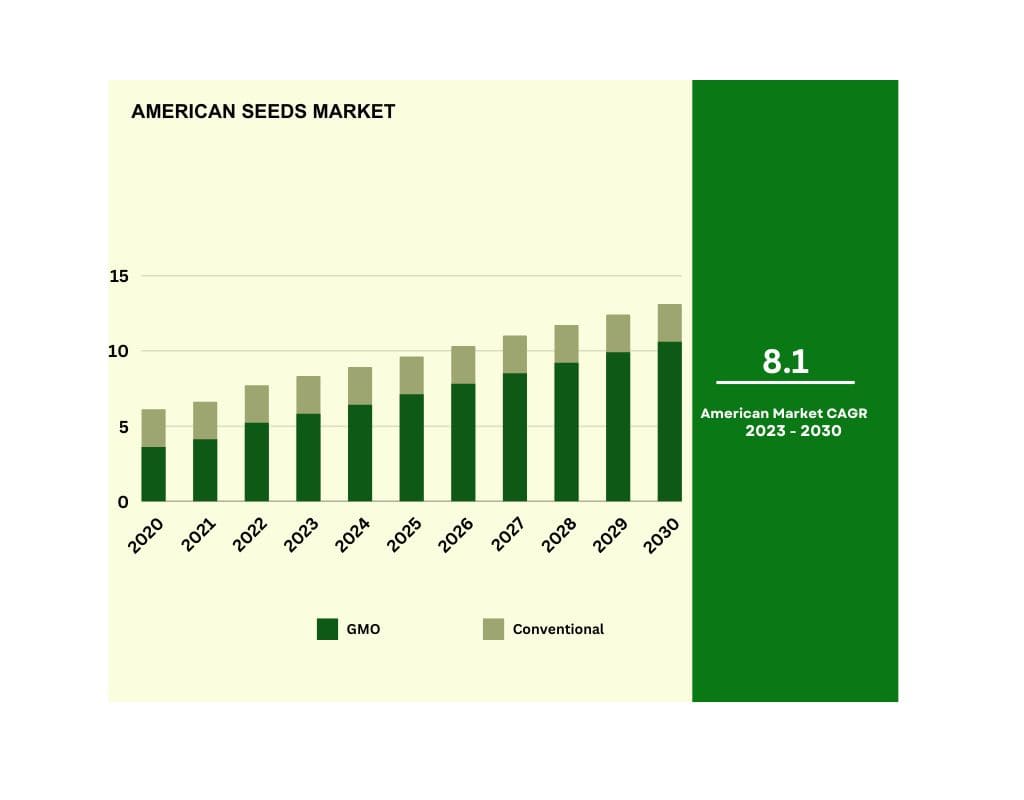 Turnkey packaging solutions
The realized implant consists of a grain packing system formed by:
Automatic Open-Mouth Bagging Machine
Cartesian palletizer with layer compacting system
Pallet wrapping machines
Automatic Open-Mouth Bagging machines
The project involved introducing and weighing the product with an electronic net-weigher for a production of 1,200 bags per hour. Therefore, we opted for an automatic packaging system that was perfect for the high production rates. The ideal solution was found in the Universal 1200 open-mouth filler. One of our flagship machines.
Its versatility combines perfectly with the high speed guaranteed by the pendulum movement during filling and evacuation. Made of AISI 304/L stainless steel, this model is suitable for a wide range of products and bag types. Perfect for processing paper bags, laminated pouches or gusseted materials.
Can range from 5,000 g for small sizes up to 50 Kg for large sizes.
Cartesian palletizer with layer-compaction system
As for the secondary packaging phase of the project, we have the MF PRC 1000 6C palletising robot at our disposal.
Through the conveyor belt, the bags reach the pick-up roller conveyor where the gripper intervention ensures the correct formation of the pallet.
This is a palletiser based on a top-loading robotic system on a 6-column support structure. It is characterized by its robustness, versatility and production speed. The use of brushless motors makes it fast and reliable. The result is an extremely compact and stable pallet.
The management software and touch screen ensure ease of use. This translates into significant time savings and easier work for less experienced operators. The maximum height of the pallet is 2,200 mm, while the maximum workable package weight is 50 kg.
Pallet wrapping machines
To complete the installation, as part of the end-of-production line, we opted for an MF WRAP 60 automatic pallet stretch wrapper with rotating arm. With a capacity of 50 to 60 pallets per hour, this winder provides compact and stable stretch film wrapping for each pallet to be palletised.
Designed for heavy applications up to 2000 Kg. During the wrapping operation, the pallet remains totally stationary while the mechanical arm rotates around it and wraps it.
MF TECNO packaging system installed at Barkley co., CALIFORNIA USA
MF Tecno Open-Mouth Bagging Machines
We have been operating in the packaging industry for more than 15 years. We design, manufacture and install equipment in a wide range of fields.
Thanks to continuous investment in research and development, we have a wide range of machinery, from vertical packaging machines to open-mouth bagging machines. We ensure reliable solutions in line with the requirements presented. From small stand-up formats such as pouch, Doypack or square bottom to large formats.
From the Semi Automatic Bagging Machine (DR series) for medium/low productions to the MF POUCH 3000 automatic open mouth bagging machine ideal for medium/high productions.
MF Tecno Palletisers
Our equipment fleet also includes a wide range of automatic palletizers and anthropomorphic robots. Our palletizers include:
Cartesian palletizers such as the MF PCA SMART, whose excellent value for money, compact size and small dimensions make it an excellent option. Even for working in prohibitive environments and confined areas. Available in a PRO version (MF PCA SMART PRO) for higher outputs.

Telescopic Palletizer like the MF PCA 700 / 700 TWIN Palletiser for medium and high productions.

PSM 1500/S push palletizer. This is a layer palletiser that can process up to 1500 bags/hour with the creation of an extremely compact and stable pallet.