Flow Pack: the definitive guide with applications and 8 benefits
Flow Pack machines (HFFS) are increasingly becoming one of the most commonly used packaging methods.
In recent years, they have become even more popular for the packaging of all types of products, from foods to everyday objects.
According to the Future Market Insight (FMI), the global market for this industry grew by 2.9 % during 2015-2021. It is expected to reach $6.8 billion by 2032, up from $4.8 billion in 2022.
In particular, Flow Pack packaging machines belong to the single-serving packaging. Single portion packs are particularly popular because they can preserve products for a long period of time.
But what specifically is a Flow Pack? What are the benefits of Flow Packs?
In this guide we will analyze and explain in detail:
of our Flow Pack packaging machines.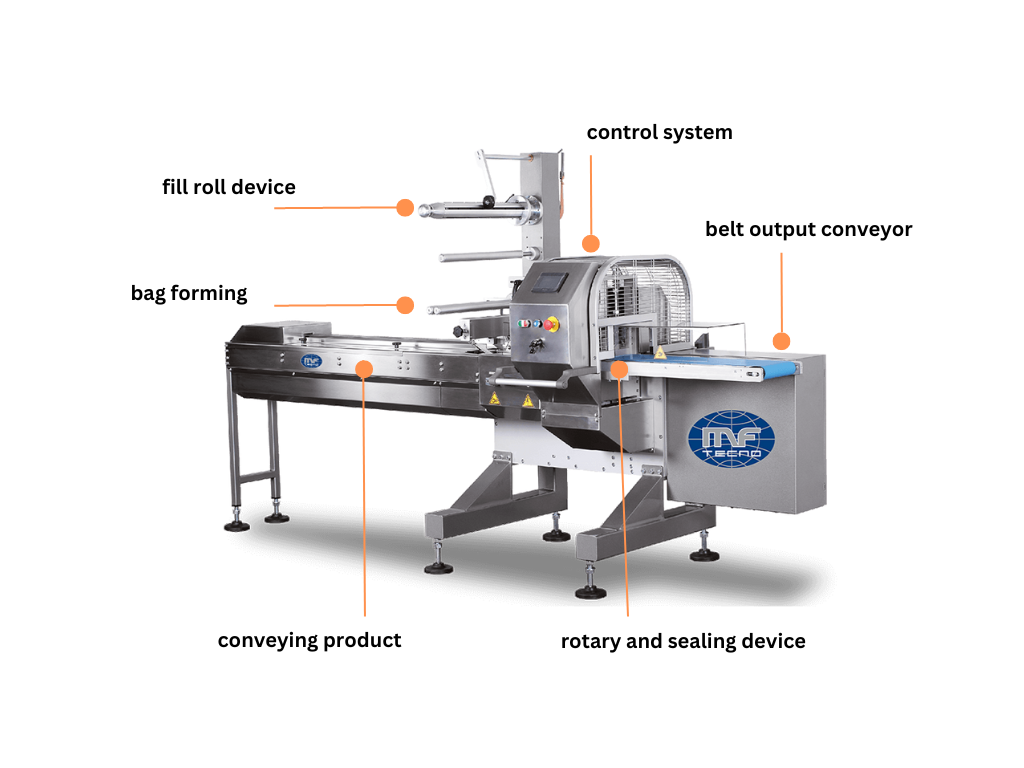 How does a Flow pack work?
Flow Pack packaging machines get their name from their packaging technology.
In fact, the materials to be packed are lined up and 'flow' one by one on a belt to be heat-sealed by a film: they are wrapped entirely and finally sealed by a welding bar.
The obtained bag, will be similar to the one produced by the vertical packaging machine (VFFS).
This technique involves a series-production in which rollers and reels move, fill, weld and cut films of plastic material: 4 activities are performed in one seamless process.
The bag can be closed in various ways: with lateral and/or longitudinal sealings, with or without a protective atmosphere (MAP).
The MAP packaging allows to lengthen the shelf-life of the product, protecting it from dust and atmospheric agents, factors that could compromise its integrity, quality and conservation.
Packaging rates are quite high. Beside being very safe, the packaging is also aesthetically pleasing, this makes it the ideal solution for shelf products.
Flow pack packaging machines (HFFS) are an increasingly popular choice due to their speed and accuracy in packaging.
Flow Pack horizontal packaging
Flow Pack packaging is part of horizontal packaging. The sack obtained will thus have the shape of a pillow.
A tab may be present near the longitudinal weld. Each package requires the creation of three welds and one fold.
The horizontal flow pack packaging machine is particularly suitable and indicated for medium-large productions.
Flow wrapping can involve horizontal packaging lines. It will therefore have the shape of a cushion. In the vicinity of the seal there will be a tab placed in the longitudinal direction of the sides of the film. Each pack requires the creation of three seals and one fold.
Materials
Several types of films can be employed. Thick or thin, compostable or recyclable. In particular, polypropylene and polyethylene.
Polyethylene terephthalate (PET) - a thermoplastic resin of the polyester family, often used for liquid and food containers.
Polyethylene (PE) - The most commonly utilised plastic today. It has several uses, including plastic packaging.
It is particularly popular because it is light, non-toxic and extremely resistant.
Production rates
The speed of flow wrapping varies according to several factors, including machine model and pack size: generally packing speed from 40 to 60 pieces/minute.
Applications
Flow Pack packaging is used in many different sectors. Its versatility makes it an ideal and extremely popular solution in many sectors, like:
Foods sector to pack chocolate bars, snacks, meats, baked goods and dried fruit, cold cuts, and many others.
Pharmaceutical and cosmetics sector for masks, lotions, creams and general body care products.
Industrial sector for small electronic and mechanical parts.
Miscellaneous, small objects
In particularly, it is used in the food industry and in the packaging of typical products such as snacks, bars, bakery products, dried fruits, chocolate, and many other food products. For example, over-the-counter mini-flow packs are very popular.
Benefits
The benefits of Flow Packs over other packaging methods are:
Versatility - This is expressed in different fields and contexts. From a pratical as well as an aesthetic point of view, without neglecting the economic aspect, the question of sustainability and that to format.
Production rate - Flow Pack packaging machines ensure high efficiency and high production speed, reduction of packing time and automation of the packaging process.
Packaging safety - Perfectly sealed, it performes a barrier function due to its high insolation and protection, thus protecting the product from external contamination. Its stainless steel construction, easily cleaned and sanitized, meets the appropriate hygiene and safety standards.
Adaptation and flexibility – There are several types of suitable products.
Resilience - The use of polyethylene and polypropylene film ensures flexibility and strength.
Economical savings - Flow Pack packaging requires the use of less energy than more traditional packaging tools and less packaging materials. They have excellent value for money.
Attention to sustainability and lower environmental impact - Key topic from the growth and development perspective. It is about the option of using disposable, recyclable materials and generating significantly less waste. A viable solution in line with customer needs and sensitivities. They help reduce the environmental impact of packaging, compared to more traditional systems such as rigid, plastic or cardboard boxes.
Personalisation – The possibility of using any graphic element on the film wrapping the product. Ensuring not only quality but also aesthetics. The personalisation of packaging, with the possibility of using single-dose versions or other methods.
It therefore represents one of the most reliable and versatile packaging options of the moment.
Rely on our experience and know-how.
Ask for a free quote. Our team and experts are at your disposal.
Videos
Here is a practical demonstration video of our Flow Pack in action.