Plastic packaging in vertical bags or flow packs is now part of our daily shopping routine and given the large volume of products sold and purchased, their use is inevitable.
In many cases, their use is even essential as they allow a longer shelf life for the contents and reduce food waste.
Plastic packaging and environmental solutions: bioplastics
Bioplastics are the sustainable answer to tons of polluting plastic waste. They enable the recycling and reuse of plastics.
Bioplastics are materials with compostable and/or biodegradable properties.
Compostable packaging and biodegradable packaging are not the same things:
- Compostable packaging has well-defined properties, tested and evaluated according to standardised parameters (UNI EN 13432).
Compostable packaging is destined for industrial composting plants and must be mixed with organic waste in order to turn it, as the term suggests, into compost.
- Plastic packaging labelled as biodegradable, on the other hand, must not be disposed of in the environment or in organic waste, but in undifferentiated waste. The fact that it is biodegradable does not mean that it is necessarily compostable.
Often the term 'biodegradable' is used inappropriately by companies, with the sole aim of giving the consumer a better idea of sustainability. Actually, no scientific tests have been carried out to prove the real biodegradability of their packaging.
Compostable packaging: the most sustainable choice on the market.
Ultimately, plastic (bioplastic, to be precise) compostable packaging is the most sustainable solution on the market.
In fact, compostable packaging is a bio-based material consisting of natural elements and, if properly placed in an industrial composting plant, it is able to decompose within only three months, passing eco-toxicity tests, and it is able to transform into valuable compost along with food waste and vegetable scraps.
Compost is a biologically stable, inert, odourless organic substance consisting mainly of humus, active microorganisms and trace elements. Compost is often reused in agronomy, e.g. as fertiliser
Today, many large retail chains can be seen demanding compostable packaging, especially for organic food.
In addition, consumers appreciate more sustainable products, both in content and packaging.
MF TECNO machines for "sustainable packaging"
MF TECNO is not indifferent to this trend towards sustainable packaging. That is why its packaging machines are also designed to use compostable film.
As proof of this, our MF 50 vertical packaging machine was designed and created to process compostable bags.
In the video below you can see in action an MF 50 installed at one of our customers, designed for packaging cereals, pulses and chickpea flour in 500 grams and 1 kg recyclable plastic bags.
The packaging machine was equipped with specially designed optional pieces for sealing compostable film.
Let's talk a little about compostable film…
The machines created by MF TECNO can pack food products using film from a reel or pre-formed bags in compostable plastic.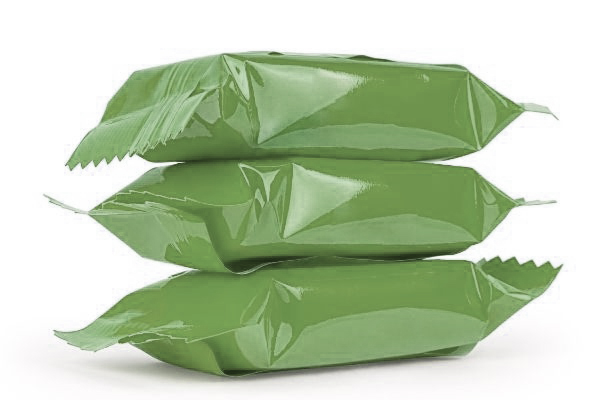 Compostable plastic flow packs

Compostable plastic bags
Compostable bags and films are ideal solutions for packaging food products and guarantee:
- maximum package sealing and product preservation
- attention to design
- the possibility of customisation
Here is a video of our machine.... in action at the customer's plant.
Whether traditional or compostable plastic, MF TECNO is always able to offer a packaging solution tailored to the customer's needs and in line with the latest market trends.