Pet Food Packaging Machine
The choice of Pet Food packaging machines is influenced by the need to combine dependability, high productivity and pack aesthetics.
The packaging aspect in Pet Food is of great importance because it conveys brand values and reflects the quality of the product. It gives the opportunity to stand out from the competition.
MF Tecno offers wide range of flexibility and a large fleet of machines to meet different customer needs.
Supplementary installations of previous projects or turnkey solutions. Top quality service from A to Z with primary and secondary packaging solutions.
Customized designs for products with different consistency and mix proportions. Ability to process different formats and productions. Solutions for entry-level and premium products. Packaging systems for dry food or wet Pet Food.
The protagonist in this case history is a complete PetFood packaging plant installed in Finland.
Below we will analyze and explain in detail:
Pet Food market
Project Specificities with video Demonstration
Pet Food Market
The pet market is a dynamic sector with great potential. Grand View Research estimates that between 2023 and 2028 there will be a growth of 4.4% in the European market alone and around 4.9% in the American market. This is a sector that is seeing steady growth in its turnover in contrast to other product sectors.
In 2022, the size of the global pet food market was estimated at USD 99.1 billion. Specifically, the market is dominated by North America with a turnover share of more than 40%.
Many of the trends that have influnced and are influencing the traditional food and beverage market are also influencing the pet food market. There is a tendency to give pet animals products an ever-increasing importance.
Project specificities
The project involved the construction of a complete plant for the production of dry Pet Food.
The customer's request was to package 4 different types of pre-formed bags with zipper and heat seal; from 5 kg up to 15 kg. It specifically consisted of:
Paddle Drag Conveyor
Automatic Bagging Machine 800 s
6 Column Cartesian Palletiser MF PRC 1000
Automatic Pallet Wrapper MF Wrap 35
Paddle Drag Conveyor
The first step was to connect the storage silo to the packaging system with a 20-metre long conveyor belt.
This transportation system is perfect for handling granular products horizontally or at an angle of up to 45° thanks to its versatility and strength.
Transportation system that can be used even in the most difficult working conditions and for highly aggressive products.
IABA 800 S
In the next step, the choice of packaging system fell on the IABA 800 S.
The design and type of product required the inclusion of additional components such as a bag kicker system, a metal detector, and a weight control system. The aim was to protect safety and detect possible contamination, so that products that did not conform to the required standards were automatically removed.
This automatic bagging machine is ideal for high production and designed for filling and sealing pre-formed bags.
It represents one of our flagship solutions both for its high production capacity and for the wide range of formats and bags that can be processed. Open-mouth, gusseted, pinch top and ungusseted bags.
Equipped with Brushless motors, it adapts to different formats quickly and easily.
Characterised by a one-piece 304 stainless steel structure. It has a production capacity of up to 800 bags/h.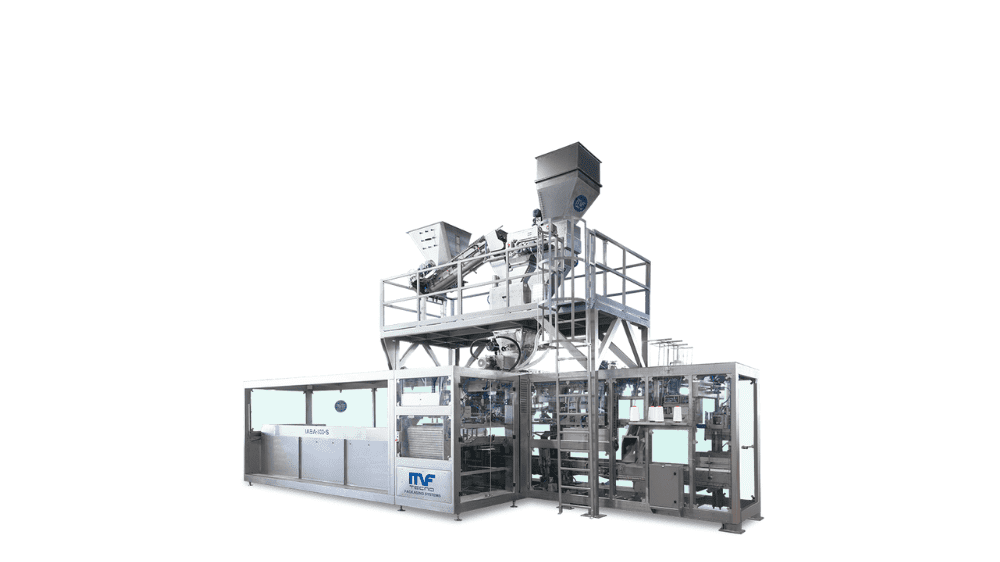 Cartesian Robot Palletizer
The project includes the top-loading MF PRC 1000 Cartesian Palletizer in the secondary packaging stage.
It represents our flagship solution.
It has a maximum production capacity of 1200 bags/h in single pick-up and around 2000/h in double pick-up. A gripper, automatically adaptable to different bag widths, picks up and deposits the bags onto the forming platform.
This is equipped with motorized side compactors. Fitted with a reel interleaf, it is characterised by the creation of an extremely compact and stable pallet. Minimum pallet dimensions are 800 x 1220, maximum are 1100 x 1400.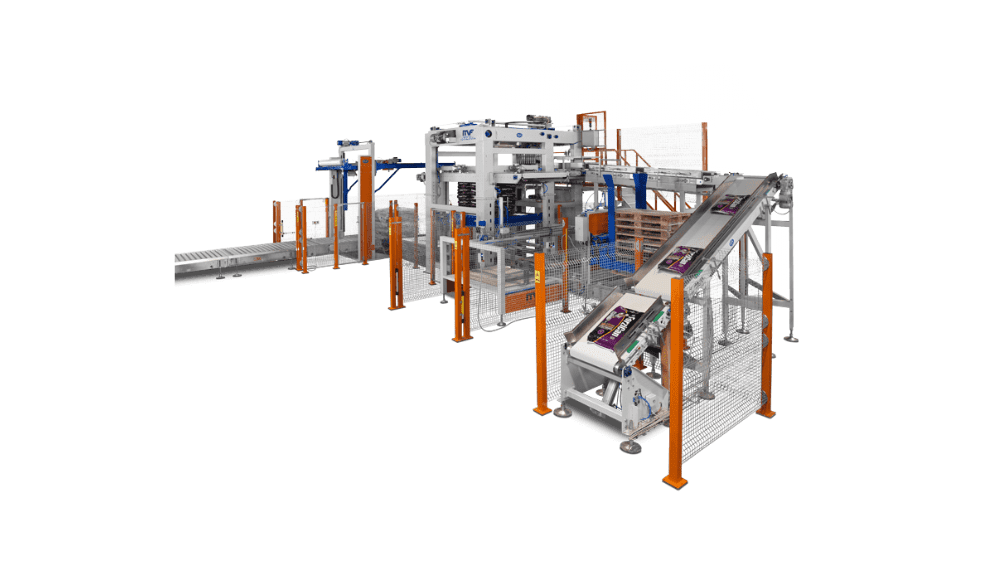 Automatic Wrapper
Following the palletising line is the MF WRAP 35 rotating platform pallet wrapper. Designed for applications up to 2000 kg, it enables stretch film wrapping to be carried out quickly, compactly and reliably.
It has an hourly output of 30-35 pallets /h and adapts easily to any transport speed, pallet type and weight.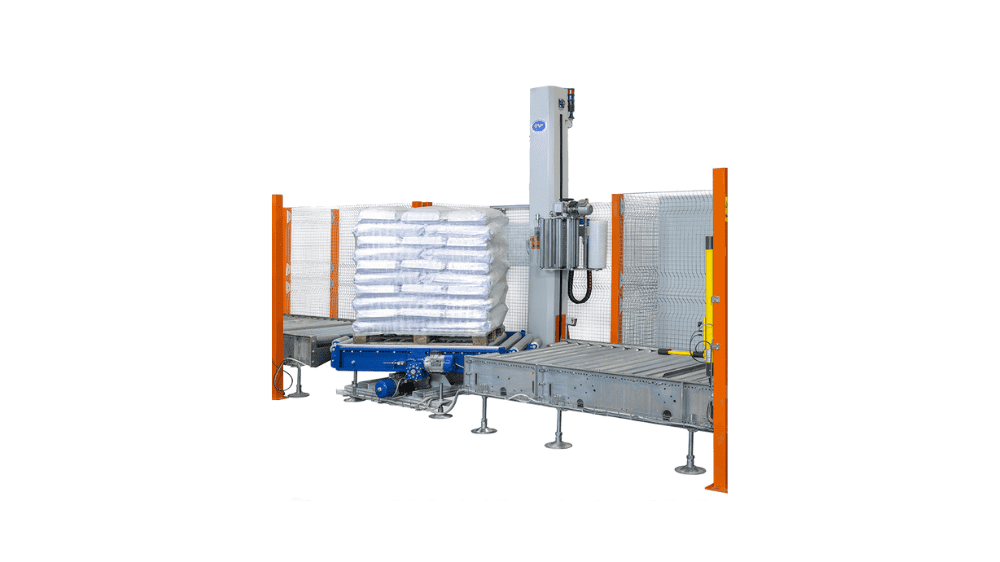 Below is a demonstration video and an article listing the different solutions presented by MF TECNO for Pet Food packaging.

Discover more ❯