MF TECNO designs and manufactures extremely compact, robust and easy-to-place semi-automatic (or manual) bagging machine for filling and closing bags, perfect to operate in an ergonomic and safe manner. The operator can carry out his work in maximum safety.
This semiautomatic bagging machine is made up of a sturdy AISI 304 stainless steel structure. It is supplied in two versions: with gross or net weighing system and can it can be equipped with belt, gravity or auger dosing systems according to the type of product to be bagged.
This manual bagging machine can process various solid products such as powders or granules, cubes and flakes. The bags from 5 up to 50 kg can be processed with extreme ease and precision and the transition from one format to another takes place in a simple way without major interventions on the machine.
The filling spout of this manual bagging machine, consisting of a stainless steel cone, is interchangeable according to the different formats to be made and has a safety system that is activated when the bag is inserted.
Watch the video below to understand how MF TECNO Semi-automatic bagging machine works:
The pedal at the base of the structure activates the pistons that support the empty bag and the opening of the jaws to release the full bag.
The control panel is equipped with safety systems, such as the double manual button for unloading the product into the bag.
This semiautomatic bagging machine becomes a complete system when it is combined with closing lines (sewing, heat sealing, gluing). It can bag up to 200 bags/hour with the gross weighing system and up to 600 bags/hour with the net weighing system.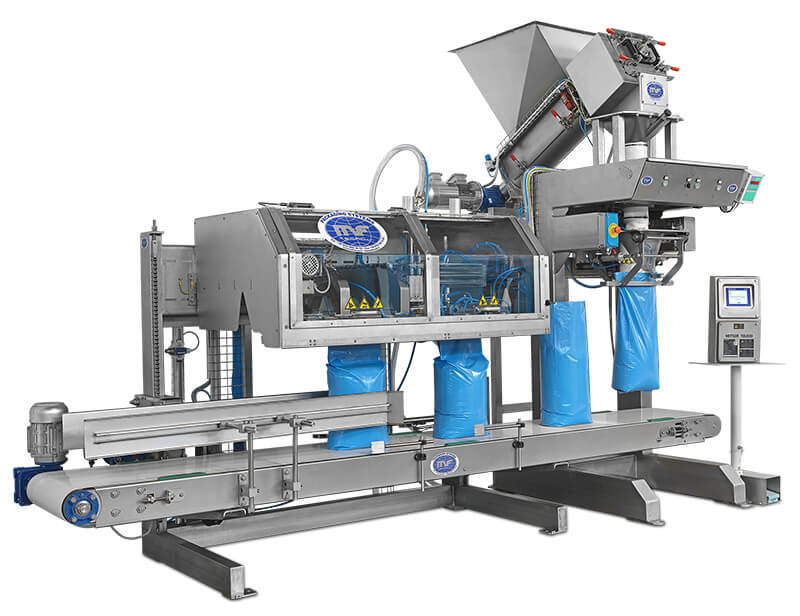 This manual bagging machine, complete with protection devices in compliance with current CE regulations, can also be equipped with the following accessories:
Bag vibrating system
Labelling device
Tag device
Parts in contact with aggressive materials made of AISI 316/L stainless steel
Dusts extractor hood
Deaeration probes
Sealing closing line with impulse or "hot bar" technology and/or sewing closing line.
Additional filling spout
Remote assistance
Entire structure in 316 stainless steel
A video shot by our client in Australia: